McArthur Towel & Sports
Description
McArthur Towel & Sports
700 Moore St.
Baraboo, WI 53913-0448
P.O. Box 448
53913-0448
(608) 356-8922
(800) 356-9168
(608) 356-7587
Vern Fowler, Sls. Mgr.
Website: http://www.mcarthurtowels.com/
Email: sales@mcarthurtowels.com
Facebook:
Instagram:
YouTube:
Twitter: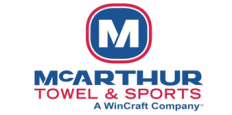 Description:
In 1885, McArthur began manufacturing athletic towels for schools, clubs and military institutions. Now with over 127 years of tradition, McArthur is a leading supplier of blank and custom towels to professional sports teams, health clubs, spas, screen printers, embroiderers, schools and government agencies.
McArthur Towels, now a WinCraft Company, works closely with the leading sports licensors, pro teams and their powerful brands offering quality products at affordable pricing. Our highly visible towels can be seen inside stadiums, locker rooms and on the sidelines at major sporting events with the NFL, MLB, NBA, NHL and NCAA.
McArthur understands the industry and works hard to deliver products that help customers grow their businesses. We are constantly offering new items and services to keep our merchandise interesting and exciting.
Manufacturer Brands:
Jr. Gym Sweat Towel||Super Gym Towel||The Super Gym Towel®||Ugly Towel