Adding a Fire Feature to your Backyard Pool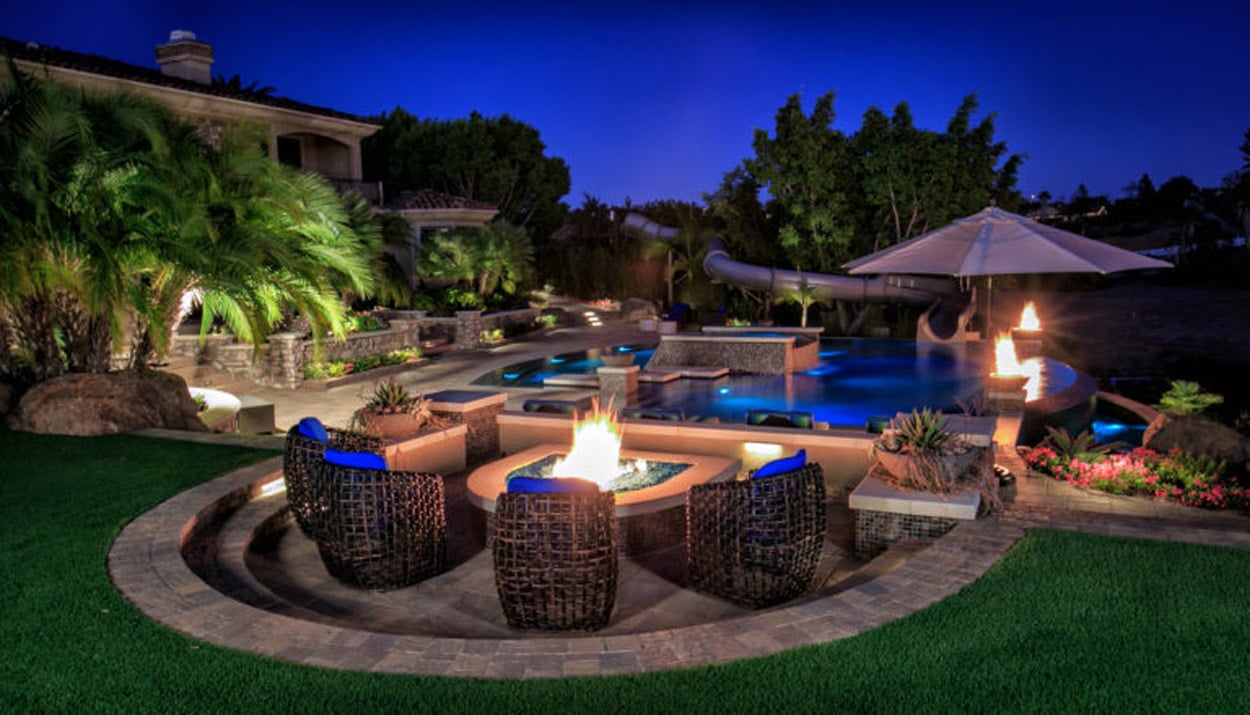 Imagine this, spending the night amidst a sky full of stars accompanied by the perfect atmosphere. These are the most relaxing and intimate moments you will ever have. The glimmering of fireflies and a warm, soft breeze can make your day worthwhile. If you intend to make such moments even more unique, you can additionally construct and position a fire feature.
As a pool builder, this means you can anticipate more customers willing to incorporate fireplaces into their outdoor spaces. However, with numerous designs and contemporary style options, one has to be prudent before settling for a particular model. Moreover, different outdoor spaces require different kinds of fire features.
In this article, we will discuss several fire features and how you can implement them well to create a cozy and relaxing environment.
Anchor or accent?
There are a variety of alternatives to choose from if you wish to create a comfortable, enthralling aura to your backyard space. Modern fire bowls, urns, firewalls, and fire tables are the perfect options for limited space.
For pool contractors to choose the appropriate fire feature, they have to comprehend its use. If your primary objective is to make your pool area more attractive, fire bowls or urns are the proper types of fireplaces for you. These features also work well with a Greco- or Tuscan-inspired pool layout that demands an antique design.
The pool area will be even more attractive. Fire bowls and urns can contain tiny outlets, allowing water to flow into the pool, thus creating a sight to behold. Various types of fire features have mobility. You do not have to restrict them to the pool. Consider elements that contain a propane tank; you can position them anywhere compared to those fixed to a gas line. 
Customers like the aspect of mobility in fire feature to position it in different places, depending on the nature of the occasion. However, in case you desire to improve the attractiveness of a neglected section in your environment, a fireplace would be a good option. 
Fireside talk
While creating a fire feature section, do not forget that the swimming pool remains the center of attention. Please do not make the mistake of creating such a glamorous fireplace that captures the user's attention compared to the swimming pool. Consequently, pool owners, primarily commercial owners, do not want a fireplace that's unpleasantly overpowering.
Additionally, a fire table is a fantastic alternative. It's not overbearing, but it's attractive enough to offer a relaxing and serene surrounding. Similar to a fireplace, a fire table provides a place where people can sit. They contain a quality outside table with a uniquely designed fire bowl at the center. They are manufactured by glass fiber and supported by concrete.
As a pool builder, it is essential to identify the suitable size for a fire table. Pool owners prefer fire tables with a smaller width due to specific attributes. Low fire tables are more comfortable than high fire tables. You can use a low fire table to relax your feet as you get nearer the source of heat, thus feeling warmer. The disadvantage with a low fire table is it's limited to contain a propane tank; therefore, requiring you to fix it to a gas line. 
Once customers are aware of this disadvantage, they get discouraged about purchasing it. However, improvising is possible. In such a case, I suggest that the low table be a secondary table to a bigger fire table. The tank, regulator, and hose are in the larger fire table and serve as a source of fuel to the lower fire table. In this case, the dining-style fire table will serve as a common eating area. On the other hand, the low fire table would be a relaxation and enjoyment area, mostly after meals. But ensure your customer knows that both types of the table require high positioned sits for the larger table and low positioned seats for resting at the lower fire table. 
The shape of a fire table is a crucial factor to consider when constructing fire tables. Square-shaped tables are best for a contemporary, regulated pool. However, a round the fire table is best for an irregular-shaped pool.
Note that all these considerations do not mean that building a fire feature should be expensive. Ready-made units are suitable for any layout a customer prefers. Most clients would rather know what to anticipate from the builder.
Furthermore, several measures should be undertaken when selling fire features that are already manufactured. As a pool builder, ensure you appropriately present them in your saleroom to attract more customers. Ultimately, you can also employ creativity when selling your services to portray a picture of what customers should expect in their backyards.
PHTA Debuts Pool Professionals Pipeline
Group plans to launch a robust jobseeker education program to fill pipeline with new talent.
(Alexandria, VA) – The Pool & Hot Tub Alliance (PHTA) today announced it is jumping into the waters of workforce development with its Pool Professionals Pipeline, a new program designed to help its members find workers, drive awareness amongst today's jobseekers, and foster long-term career progression in the pool, hot tub, and aquatics industry.
"It's no secret that many industries and businesses today are struggling to find and retain employees, and this is particularly true in trades such as ours," says PHTA President and CEO Sabeena Hickman, CAE. "Our members are looking to PHTA to help fill that gap and we're ready for the challenge. We are incredibly excited to share this new program with our membership and give them the tools they'll need to compete in today's labor market while working to attract a skilled, diversified, and thriving workforce."
Underneath the PHTA's Pool Professionals Pipeline workforce development umbrella is its external industry awareness campaign and jobseeker website, Work in Aquatics and workinaquatics.com, launching in 2023. Work in Aquatics will seek to advocate for trade professions by highlighting the numerous advantages, training and apprenticeship opportunities, job openings, and potential career progression tracks that are available working in the pool and hot tub industry. From construction labor to lifeguards, sales representatives, entrepreneurs, and even engineers and designers, there are many industry sectors and paths along the way that PHTA wants jobseekers to explore.
"This program is a game-changer for our industry as it works to drive qualified talent to our respective businesses and our industry as a whole," says PHTA Chairman Charlie Claffey, owner of Claffey Pools. "To be successful, we're going to need everyone on board as we work to put the industry on the radar of those searching for an alternative path to college; a rewarding career in a healthy lifestyle environment; the ability to work away from a desk; creative freedom through modern design; and lifesaving skills through swim instruction. The possibilities that exist in the aquatics industry are endless and once you begin in this line of work, you'll never want to walk away. Let's share that passion with the next generation of workers."
A steering committee comprised of PHTA members, industry partners, and PHTA staff will serve in an advisory role to help guide programming, funding, and more:
Charlie Claffey, Claffey Pools
Joseph Laurino, Ph.D., Periodic Products, Inc.
Andrew Levinson, PoolCorp
Elizabeth McMurray, Florida Swimming Pool Association
Albert Miller, Hayward
Dominick Mondi, Northeast Spa & Pool Association
Kevin Post, Counsilman-Hunsaker
Teri Wiltshire, Master Pools Guild
Lisa Zarda, CAE, US Swim School Association
Members, partners, and others interested in becoming involved in the PHTA Pool Professionals Pipeline can contact Seth Ewing, PHTA Senior Director of Member Programs & Services, at [email protected]  
Media Contact:
Amy Willer
Associate Director, Marketing and Communications
703-838-0083, ext. 121 | [email protected]
Basecrete Launches OnDeck Wearable Waterproofing System
OnDeck waterproofing system promises to be a real game changer for pool contractors.
When it comes to the waterproofing of residential and commercial pool vessels, Basecrete Technologies has long been a leader in waterproof bondcoatings for the pool and spa industry. Recently, Pool Magazine had the opportunity to catch up with Vito Mariano and Christopher Gates to discuss the newest innovation to hit the pool trade, OnDeck, a new system they claim will revolutionize waterproofing.
The OnDeck Difference
"The actual application process is super simple. It can go horizontal and vertical and can be textured as the installer sees fit. Heavy and light textures can be rolled on, shot on, or troweled on but it's based on the same science as Basecrete," said Gates, who will be managing the OnDeck product.
One of the primary reasons the new system is predicted to be a surefire hit with pool contractors is due to its versatility, which Gates says will be a game-changer. "You can take a new project and marry it to an old project. Our material allows you to build up an old existing deck that's chipped and broken. You can clean it out and build up to two-inch lifts using the material to build that up so that it's seamlessly the same elevation as the new concrete. Then you coat the whole thing with OnDeck and it all is just beautiful and elegant. That all happens out of one bag and bucket of polymer.," explained Gates.
Versatility and Customization
OnDeck is sure to appeal to contractors who have experienced frustration with other products in the past said Gates. As an industry veteran, he knows those frustrations first-hand, "you have to buy a bag of this for horizontal, and a bag of that for vertical, and a bag of that for waterproofing. Ours is just real simple," explained Gates.
Color options and customization are a big factor when it comes to decking materials. OnDeck promises to alleviate many of those concerns as well. "The last coating is a pigmented stain and sealer which comes in seven different colors. We operate in a light base and a dark base so you can tint a custom color," said Gates, "if you have a big project, say you were doing a stadium, for example, and you wanted to have the colors of the team, you can get your own color mixed with a lighter or darker base."
A Cost Effective Waterproofing System
The OnDeck system is all the brain-child of Vito Mariano who has a history of producing award-winning products of this nature. His strategy for propelling the system into the market is to win contractors with a better product they can have at a smarter price point than what they've already been accustomed to using.
"Price per square foot is number one," said Mariano, "OnDeck is not expensive and it's a fast waterproofing decking system at the same time. Now you get all these new benefits that the industry isn't used to; instead of just your typical low-end cementitious spray, roll on, epoxy or latex-based material. We're staying focused on simplicity, our waterproofing capability, and price. That's very important out there."
Bringing OnDeck To The Industry
Mariano is confident in having an industry professional like Gates to help drive the product in the market. "I've been producing OnDeck for a long time. The formula goes back many years," said Mariano, "and I've used it again and again for my own applications. I never really had the time to pursue it because I was busy with other products. We think Christopher will be ideal for us. He's got an edge because he knows the industry and he gets it. "
The success of Basecrete has industry insiders eager to demo the OnDeck system. "I had a phone call from a gentleman I did a contract with a while back who wanted to thank me. He told me 'Where has this product been? I've used everything out there in the last 35 years. I've never seen anything this good before.' He now has 60 driveways totally converted to the OnDeck system and will be doing our training," said Mariano.
Mariano expects many brand ambassadors to come forth and champion the product in the coming months. "We've got folks like Jose Garcia from Barefoot Pools in Arizona, chomping at the bit to get this product. He does phenomenal Basecrete applications on hundreds of pools. Those are the kind of companies and applicators that we're going to go for," said Mariano.
Gates, who has a long history in the pool industry, previously with California Pools and San Juan Pools; says the timing is ripe for a product of this nature.
"On pool and deck projects many years ago we started doing polymer overlays and acrylic top coats. Every one of them kind of marched to the beat of their own drummer, and you had to figure each system out. You'd try to stick with one that you could use if you knew the idiosyncrasies of a given system," explained Gates, "when Vito started telling me that it's the same bag to make the material that goes on the flat deck, that goes up the walls, that waterproofs the corners; it's just different mixing styles – that's got me excited. That coupled with this fellow he's talking about who will doing all the training for our team members that are coming on board makes it a no-brainer," explained Gates.
Listen to our entire conversation and learn more about the OnDeck system on the Pool Magazine podcast.
Pentair Pool Builder Software May Just Be a Game Changer
We take a look under the hood at Pentair Pool Builder and discuss the software with developer Tommy Reynolds.
These days pool builders are searching for best-in-class software that can help them save time, improve efficiency, and communicate better with customers. Pentair Pool Builder is a software that aims to do exactly that. While there are plenty of solutions out there geared toward design, few applications exist for managing a pool construction business. Pool builders in general prefer a system that offers flexibility, ease of use, and reliability. Consequently, Tommy Reynolds, the developer behind the software, said his app is the game changer that the pool industry has been waiting for. We had the chance to discuss the software with Reynolds on the Pool Magazine Podcast and got the opportunity to learn more about the features and benefits.
One on One With Pentair Pool Builder Developer, Tommy Reynolds
For Reynolds, the path toward developing the app started with building a pool. A seasoned software developer and entrepreneur, he was having a swimming pool of his own built and discovered that communication throughout the process was lacking."I was going through building a pool and had some experiences. I felt like as a consumer, I should be a little bit more connected. That was kind of the premise of me getting involved in starting this project," said Reynolds.
Frustrations With The Pool Building Process
For Reynolds, he felt that he knew what to expect before construction began but once things got started is when he felt the need for better communication. "When we got to construction, there were a few communication gaps. A lot of times they use subcontractors, and their availability could be at the drop of a hat. They're going to be at your place unannounced to work on the pool." explained Reynolds, when describing the frustrations.
"My dog had been let out a couple of times," said Reynolds, "and so I just thought, 'I wish there was an app that I could put on my phone that would tell me when someone's going to be at the house, I could put the dogs away.' I just felt like, maybe there's an app for this. I approached my builder and asked him, 'Do you have an app for me to use?' And he said he didn't. My next question was, 'Does anybody have an app?'"
"He's been building pools for 25 years, and an industry expert, and so he said he didn't know of anything for the customer," explained Reynolds, "so that really started the creative juices flowing and made me think I should just take this on as a passion project for him and I to work on something. I figured, if it works out, he can share this with the next customer, and then they could benefit from what we built."
Reynold's builder recognized the potential of what they had developed in a short time frame and began showing it to his Pentair dealer who took interest in the app and invited Reynolds to demonstrate it for the senior leadership team at Pentair. "I was invited to go to the International Pool & Spa Expo to show them what we'd been working on," explained Reynolds, "When I showed them what we were doing, they said, 'This is pretty cool and we'd like to be a part of it.'"
Reynolds, who began working locally with pool builders in Texas said word began to get around fast. "Once we got out there, we really knew that we had something. There's a real demand and need for this type of product. So we started working with builders locally and then it just grew to what it is today," explained Reynolds.
Communication is the #1 Challenge for Pool Builders
"I think the biggest challenge that a lot of pool builders have is just with communication and managing the customer's expectations along with inner office communications and their subcontractors," said Reynolds, "what Pentair Pool Builder really does is it addresses the communications gap. We start with the sales lead management process. When a salesperson goes out to the job site, they can begin taking photos and uploading those right then and there. We relieve some of the stress and friction just by allowing them to do things on the spot. The mobile application allows that salesperson to manage that lead throughout the process."
Problems That Pentair Pool Builder Solves
Pentair Pool Builder promises to solve a few different problems that contractors face on a daily basis. Their mobile-friendly app enables builders to simplify job costing with real-time pricing updates and easily create instant estimates and change orders that be signed electronically. With a robust built-in CRM, salespeople can efficiently manage their leads and sales with better visibility.
Core Benefits:
DITCH PRICING SHEETS
LESS WINDSHIELD TIME
EASY COMMUNICATION
EASY CHANGE ORDERS
HELP MANAGE MORE SALES
EASY INTEGRATION
What Pool Builders Are Saying About Pentair Pool Builder
"It gives the designers the ability to see what's going on in real time." – Susan Rodriguez, Office Manager, Cypress Custom Pools
"It's a very efficient app, and it has helped streamline the building process. For everybody." – Tommie Fleeman, Project Manager, Backyard Oasis
Simplifying Pool Construction Management
Custom tailoring the pool construction management experience to a variety of contractors was key in developing a tool that can be universally adopted, said Reynolds. "It's a completely customizable process. So how they build their pool may be different than someone else. They're able to customize that experience to their process," he explained.
"The construction module of the software is basically the orchestration of producing a swimming pool," said Reynolds, "from the time they excavate it to the time they put water in it. All the processes that happen and all the people that it takes to make it happen are managed through the software which provides the ability for scheduling of resources. There are also notifications to let people know when it's their time to do the job, as well as let other people know what's happening on the job site."
The integration of camera monitoring into the software system also promises to lower the amount of windshield time between visiting job sites, explained Reynolds. "Generally the project superintendents are having to drive job to job to check things out. Once we introduced the job site monitoring capability that we now have, it allowed them to do that remotely. Now, they can actually cover more jobs in a single day than they would by driving around to check on those jobs."
Listen to Our Entire Discussion
Learn more about Pentair Pool Builder take a deeper dive by listening to our conversation with Tommy Reynolds on the Pool Magazine podcast. For those interested in learning more about the software or taking a demo, visit Pentair's website.