Adding a Fire Feature to your Backyard Pool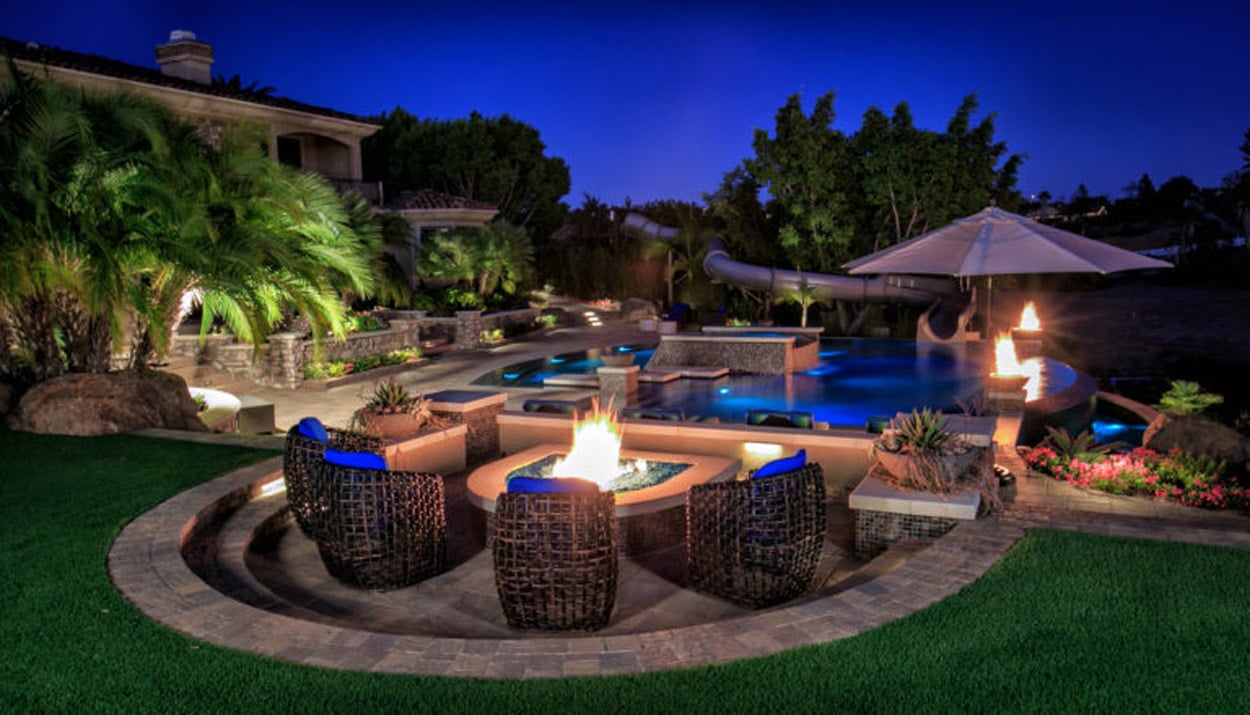 Imagine this, spending the night amidst a sky full of stars accompanied by the perfect atmosphere. These are the most relaxing and intimate moments you will ever have. The glimmering of fireflies and a warm, soft breeze can make your day worthwhile. If you intend to make such moments even more unique, you can additionally construct and position a fire feature.
As a pool builder, this means you can anticipate more customers willing to incorporate fireplaces into their outdoor spaces. However, with numerous designs and contemporary style options, one has to be prudent before settling for a particular model. Moreover, different outdoor spaces require different kinds of fire features.
In this article, we will discuss several fire features and how you can implement them well to create a cozy and relaxing environment.
Anchor or accent?
There are a variety of alternatives to choose from if you wish to create a comfortable, enthralling aura to your backyard space. Modern fire bowls, urns, firewalls, and fire tables are the perfect options for limited space.
For pool contractors to choose the appropriate fire feature, they have to comprehend its use. If your primary objective is to make your pool area more attractive, fire bowls or urns are the proper types of fireplaces for you. These features also work well with a Greco- or Tuscan-inspired pool layout that demands an antique design.
The pool area will be even more attractive. Fire bowls and urns can contain tiny outlets, allowing water to flow into the pool, thus creating a sight to behold. Various types of fire features have mobility. You do not have to restrict them to the pool. Consider elements that contain a propane tank; you can position them anywhere compared to those fixed to a gas line. 
Customers like the aspect of mobility in fire feature to position it in different places, depending on the nature of the occasion. However, in case you desire to improve the attractiveness of a neglected section in your environment, a fireplace would be a good option. 
Fireside talk
While creating a fire feature section, do not forget that the swimming pool remains the center of attention. Please do not make the mistake of creating such a glamorous fireplace that captures the user's attention compared to the swimming pool. Consequently, pool owners, primarily commercial owners, do not want a fireplace that's unpleasantly overpowering.
Additionally, a fire table is a fantastic alternative. It's not overbearing, but it's attractive enough to offer a relaxing and serene surrounding. Similar to a fireplace, a fire table provides a place where people can sit. They contain a quality outside table with a uniquely designed fire bowl at the center. They are manufactured by glass fiber and supported by concrete.
As a pool builder, it is essential to identify the suitable size for a fire table. Pool owners prefer fire tables with a smaller width due to specific attributes. Low fire tables are more comfortable than high fire tables. You can use a low fire table to relax your feet as you get nearer the source of heat, thus feeling warmer. The disadvantage with a low fire table is it's limited to contain a propane tank; therefore, requiring you to fix it to a gas line. 
Once customers are aware of this disadvantage, they get discouraged about purchasing it. However, improvising is possible. In such a case, I suggest that the low table be a secondary table to a bigger fire table. The tank, regulator, and hose are in the larger fire table and serve as a source of fuel to the lower fire table. In this case, the dining-style fire table will serve as a common eating area. On the other hand, the low fire table would be a relaxation and enjoyment area, mostly after meals. But ensure your customer knows that both types of the table require high positioned sits for the larger table and low positioned seats for resting at the lower fire table. 
The shape of a fire table is a crucial factor to consider when constructing fire tables. Square-shaped tables are best for a contemporary, regulated pool. However, a round the fire table is best for an irregular-shaped pool.
Note that all these considerations do not mean that building a fire feature should be expensive. Ready-made units are suitable for any layout a customer prefers. Most clients would rather know what to anticipate from the builder.
Furthermore, several measures should be undertaken when selling fire features that are already manufactured. As a pool builder, ensure you appropriately present them in your saleroom to attract more customers. Ultimately, you can also employ creativity when selling your services to portray a picture of what customers should expect in their backyards.
The Pool and Spa Industry: Dealing With Rapid Expansion of the Industry
The global pandemic negatively affected almost all economic sectors. Conversely, the pool industry came out in one piece. In fact, experts say that the covid-19 pandemic led to the expansion of the pool and spa industry. Amid the travel restrictions, homeowners were looking to create mini staycations in their backyards. As a result, there was an increased demand for pool services.
Currently, pool contractors have a lot on their plate. Everyone wants to revamp their pool and outdoor spaces. Owner of H&H Pool Services in Dublin, David Hawes, says, "We've never had a high demand for our services before. Indisputably, this is going to be our best year." Moreover, the Owner of Payan Pools, Payan, states, "December has been the best month we've had since we started the business."
However, pool business owners say that a surge in demand leads to increased risk in the pool and spa industry. As much as it's tempting for firms to hike prices, not all companies qualify to do so. It would be best if you considered several factors before you think of capitalizing on the surge.
Pool and spa industry: Will hiring more employees pay off? 
One of the major challenges brought about by an increase in demand in the pool and spa industry is a labor shortage. Increased demand causes a shortage of labor. In turn, it forces pool companies to employ more people. But employing more people is very costly. Remember, you have to consider all the taxes, compensation, and insurance costs attached to each employee. So, is hiring more laborers worth it?
Well, hiring is worth it in the long run. But it will take some time before you benefit from it. Generally, employing more people is a considerable risk, but it will definitely pay off at the end of the day. So, if possible, hire more employees.
Nevertheless, it can be challenging to find someone passionate about your business as much as you are. Nowadays, finding someone willing to deliver their best efforts in your company is challenging. Moreover, there are few qualified people. A good percentage of people are still getting paid well while working from home.
Payan, therefore, says that company owners have to devise a strategy to be more productive. For example, they can deal with more extensive and complex projects during off-peak seasons. At this time, there is not much going on. Thus, pool contractors have more time to concentrate on larger projects. You can always ask the client if it is possible to do this. Most of them will be perfectly fine with this.
At the end of the day, it's all about working smart to achieve all your goals. You can always keep up with the demand, even with a few laborers. However, give all your team members' adequate time to rest. Otherwise, they would burn out. In turn, they will have low energy levels and perform poorly at work.
Devise a strategy to grow your business
All pool company owners should develop a strategy to expand their business at this time. Below are some of the questions you should ask yourself if you plan to grow your company.
Do you have enough trucks? Or do you need more?
Is your warehouse spacious enough to accommodate all your equipment? Is it necessary to have a second or third, or fourth warehouse in a different service area due to increased demand?
Should you recruit new team members to deal with the increase in inquiries?
Should you incorporate advanced technology to monitor your stock, sales, and revenues?
Every question comes with an opportunity and a risk. For instance, if you need another warehouse, this will mean more costs and more business at the same time. Therefore, it is vital to ensure that the returns supersede the risk.
How long will the surge in demand last?
More often than not, independent contractors receive more returns. Come to think of it. They only need to pay their suppliers and a few laborers. This justifies that sometimes, bigger is not always better.
However, the increased demand is now forcing independent pool builders to grow. Since they have to deal with multiple projects, they have to employ more laborers. Although it's relatively risky to expand their business, it is beneficial in the long run.
But before expanding their businesses, is it worth it to go the extra mile? Remember, this surge in demand in the pool and spa industry arose from the covid-19 pandemic. What happens when the global pandemic is over? Will things go back to normal? Well, there's a good chance that things will remain as they are for a pretty long time. Employers say that employees are still productive even when working from home. Besides, children are now used to having swimming pools around; it is undoubtedly hard to take their minds back to the old norm.
Everything You Need To Know About Hardscapes
From the early years, pool owners used hardscapes to make their pools more appealing. The expansion of the pool industry has led to the development of different hardscaping material designs. Due to the covid 19 pandemic restrictions, there is currently an increase in demand for pool decking services. Therefore, pool contractors should do their best to keep up with this high demand.
Hardscape myths: Truth vs Reality
Certain myths revolve around hardscapes. As a result, a good percentage of qualified pool contractors avoid providing hardscaping services.
More often than not, pool builders are unsure of how to go about hardscapes. They prefer not to offer these services. Once they cope the pool, they render the project complete.

Hardscape's product manager at NPT, Paul Golomski
What is the reason for this uncertainty?
Paul continues to say, "The uncertainty usually stems from the installation process. Pool contractors don't want to install a pool deck that won't offer high longevity. They are afraid that the pavers will start wearing out after six or eight months." Contractors don't want to destroy their reputation and credibility. However, if you use the right installation technique, pavers can last for decades.
Moreover, very few builders don't include the cost of additional material. And this affects their profits at the end of the day. For example, when dealing with a pool deck of 800 sq., you cannot use pavers measuring 800 sq. Typically, you'll use more material because some squares are not even.
Manufacturers provide the necessary help
The increase in demand for outdoor space renovations should prompt new contractors to provide pool decking services. However, the biggest challenge that prevents builders from providing this kind of service is education. Fortunately, hardscape manufacturers are doing their best to help builders with installation. Once you purchase a hardscape material, manufacturers are willing to guide you on the installation process. Before the covid-19 pandemic, hardscape manufacturers would even come onsite to guide contractors. Due to covid restrictions, they now offer tutorials virtually. And they don't charge anything for this.
Different designs and customization options
At present, there is a broad spectrum of deck materials, and each offers unique aesthetics. So, there's something for every pool type and design. Golomski states, "Pool owners prefer natural stone to conventional concrete pavers." Typically, natural stone provides more aesthetics compared to concrete. Nonetheless, the best pick for NPT is travertine. Travertine provides exceptional and distinctive aesthetics. If you want your pool to stand out, travertine is the best deck material to choose from. Besides, you can customize it to your preferred shape and size.
Maximum longevity and fewer maintenance costs
Hardscape materials carry a wide array of advantages. One of the best things about these materials is that they are long-lasting. Hardscape materials can look good for decades. Furthermore, they incorporate fewer maintenance procedures and costs. For example, natural stone does not need any maintenance. All you need to do is sweep it using a traditional broom to keep it clean.
Light-colored hardscape materials are better
It would be best to install a lighter-colored hardscape material for your pool. Most hardscape materials feel hot or even burn when you step on them using your barefoot. Lighter-colored materials do not absorb as much heat as darker-colored hardscape materials because they have a high Solar Reflective Index (SRI). It is much more comfortable to step on a lighter-colored hardscape material.
Experience your outdoor space virtually
Fortunately, you can visualize the hardscape material in your yard before installation. Remember, there is a wide range of hardscape materials. And selecting the right one that complements your backyard can be challenging. The NPT Backyard App helps you see the outcome of the project through a virtual pool design studio.
Golomski states, "Our company is currently bringing new additions to the market. Some of them include porcelains, marbles, and flagstones." Once you get access to the Backyard App, you'll see how your pool area will appear. The app allows you to customize your pool with different deck materials, from natural stone to concrete. Then, it gives you a clear virtual presentation of how the pool is most likely to turn out.
Hardscapes: A promising future ahead
During the first few months of the pandemic, there was a lot of uncertainty. But after some time, homeowners started upgrading their backyard spaces to make summer holidays more worthwhile. Subsequently, there was increased demand for hardscaping materials. Golomski states, "We have never experienced such high demand for hardscapes. We expect the same demand within the next two to three years. So, 2021 will most likely be a busy year."
Pool Metals and Metal Staining
Metals are naturally existing elements found in every place; in water, soil and stones. Metals in soil and stones dissolve in acidic rainwater, which is then carried to surface water and groundwater. Through this, the dissolved metals find their way to pools and tubs when filled. Exposure of metals to water cause staining on pool surfaces and equipment. This article discusses the techniques to control the presence of pool metals. It also discusses the different kinds of metal staining and the relevant chemicals to eliminate and hinder stains.
Metals in pools and hot tub water
There are 91 existing metals, but only 6 are problematic to hot tubs and pools. The 6 metals include magnesium, copper, cobalt, iron, manganese and calcium. Here we will only discuss 4 that are cobalt, copper, magnesium and iron.
Fill water, inclusive of almost all municipal and well water supplies that fill hot tubs and pools, contains a few metals. It is advisable to test for metal concentration in source water before filling the hot tubs and pools.
Tests for iron and copper are easily accessible, though the majority only measures the free form of the dissolved metals. They also do not test the sequestered and complexed forms of dissolved metals. A two-phase metal test containing adequate reducing and releasing agents give better results on free, complexed and some oxidized metals.
Sources of metal contamination in the pool and hot tub water are plaster and pebble surfaces, water features, decking materials, metal equipment, galvanic corrosion, chemicals and runoff.
In addition, flagstone, marble and stone contain iron that leaches into the pool after every rainfall. Imbalanced water may cause the introduction of copper from heat exchangers found in gas-fired water heaters. Moreover, copper-based algaecides and mineral-based water treatment may be a source of pool metals. Plant fertilizers can also introduce metals when incorrectly applied or due to uncontrolled flooding. More sources of metal include irrigation methods with well water.
Preventing stains
Water Treatment
Avoid using untreated water with high metal concentration (higher than 1ppm) in hot tubs or pool. Treat the water when the metal concentration is higher than 0.2 ppm. Sediment filters (10 microns or less) eliminate the majority of the bigger oxidized particles. Use filters that have metal adsorbents to treat water, to minimize dissolved metals concentration.
Primary Sanitizers and Stabilizers
Maintain proper concentration of primary sanitizers and other similar stabilizers to prevent organic contaminants. These include; pathogens, non-hazardous bacteria and algae minimizing the need for a copper-based algaecide.
Bonding of Metals and Water
The majority of the pool and hot tub equipment are metal-made. For example, electrolytic halogen generators, the heating core of electric heat pump, gas-fired pool and hot tub heaters, ladders, light rings and handrails.
To enhance chemical and electrical safety, install a bonding system in the hot tub or pool. The bonding system involves joining the copper wire with all the metal elements and water combined. This minimizes electric potential difference. Lack of this system, enables dissolution of pool metals, causing staining that damages the equipment. This is the process known as galvanic corrosion and can heighten due to several factors such as salt water, stray direct current as well as its power supplies. Anodes (zinc metal) reduce the damage on the equipment but don't deal with the cause of corrosion. Test the bonding system every year, or any other time there is corrosion.
Pool & Hot Tub pH
pH is the most vital yet most ignored factor in preventing metal release in water. Low pH water (below 7) is acidic and corrosive. Acidic water dissolves metals from the pool equipment.
Improper water chemistry harms pool surfaces and machinery. Always ensure to maintain an accurate pH, alkalinity (carbonate) and calcium (hardness). If inadequate, water draws carbonate and calcium from cementitious surfaces, discharging metals into the water.
Sequestering Agents
Sequestering agents join with the dissolved pool metals to reduce oxidation hence reduces staining. They chelate the metals, not eliminate them. They require a complex modern ultra filtration system to remove sequestered metal particles as the particles are too small for the pool filtration system. Add this agent on a regular basis, as a secondary disinfection and primary sanitizer systems keep on destroying them.
Ways to reduce metal concentration in hot tubs and pool water
Bind the metals using polymer and water-insoluble natural adsorbents
Filter the water through a reverse osmosis system
Remove and replace a part of the water with fresh metal-free water
Removing stains from the pool and hot tub surfaces
1. Metal stain removal from the surface
2. Chelation of the dissolved metals in the water with a sequestering agent
3. Elimination of the metals from the water.
To get rid of pool metals and metal stains, add oxalic acid, ascorbic acid and citric acid or a similar product into the pool water. An experienced pool service expert should only execute the use of Muriatic acid in the removal of metal stains as it can lead to permanent damage to the pool surface. Chelation of dissolved metals and minimizing concentrations of dissolved metal have been earlier tackled.
Figuring out the difference between metal stains and those by organic contamination can be difficult. For evaluation, establish the origin of the stain, asses the water chemistry and test the stain with either citric acid or ascorbic acid.
Note: Some organic stains, similar to those brought about by iron bacteria, vanish after treatment with ascorbic acid but return with the introduction of chlorine residuals.