Adding a Fire Feature to your Backyard Pool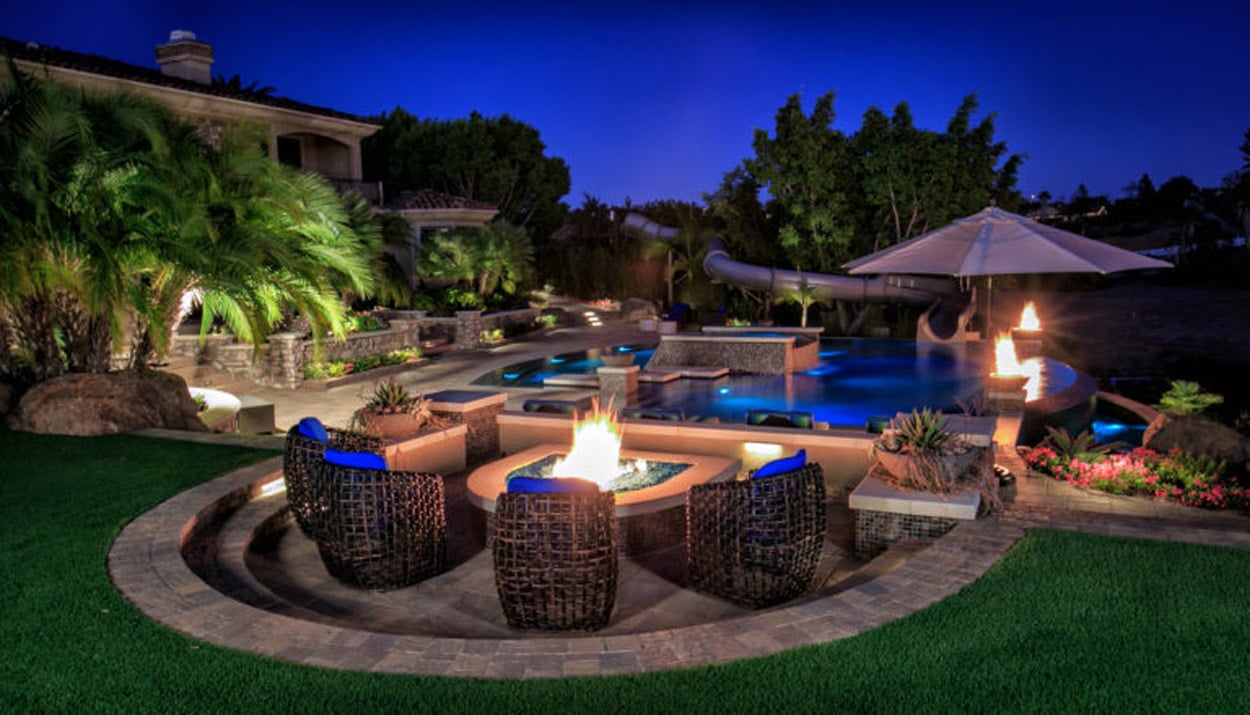 Imagine this, spending the night amidst a sky full of stars accompanied by the perfect atmosphere. These are the most relaxing and intimate moments you will ever have. The glimmering of fireflies and a warm, soft breeze can make your day worthwhile. If you intend to make such moments even more unique, you can additionally construct and position a fire feature.
As a pool builder, this means you can anticipate more customers willing to incorporate fireplaces into their outdoor spaces. However, with numerous designs and contemporary style options, one has to be prudent before settling for a particular model. Moreover, different outdoor spaces require different kinds of fire features.
In this article, we will discuss several fire features and how you can implement them well to create a cozy and relaxing environment.
Anchor or accent?
There are a variety of alternatives to choose from if you wish to create a comfortable, enthralling aura to your backyard space. Modern fire bowls, urns, firewalls, and fire tables are the perfect options for limited space.
For pool contractors to choose the appropriate fire feature, they have to comprehend its use. If your primary objective is to make your pool area more attractive, fire bowls or urns are the proper types of fireplaces for you. These features also work well with a Greco- or Tuscan-inspired pool layout that demands an antique design.
The pool area will be even more attractive. Fire bowls and urns can contain tiny outlets, allowing water to flow into the pool, thus creating a sight to behold. Various types of fire features have mobility. You do not have to restrict them to the pool. Consider elements that contain a propane tank; you can position them anywhere compared to those fixed to a gas line. 
Customers like the aspect of mobility in fire feature to position it in different places, depending on the nature of the occasion. However, in case you desire to improve the attractiveness of a neglected section in your environment, a fireplace would be a good option. 
Fireside talk
While creating a fire feature section, do not forget that the swimming pool remains the center of attention. Please do not make the mistake of creating such a glamorous fireplace that captures the user's attention compared to the swimming pool. Consequently, pool owners, primarily commercial owners, do not want a fireplace that's unpleasantly overpowering.
Additionally, a fire table is a fantastic alternative. It's not overbearing, but it's attractive enough to offer a relaxing and serene surrounding. Similar to a fireplace, a fire table provides a place where people can sit. They contain a quality outside table with a uniquely designed fire bowl at the center. They are manufactured by glass fiber and supported by concrete.
As a pool builder, it is essential to identify the suitable size for a fire table. Pool owners prefer fire tables with a smaller width due to specific attributes. Low fire tables are more comfortable than high fire tables. You can use a low fire table to relax your feet as you get nearer the source of heat, thus feeling warmer. The disadvantage with a low fire table is it's limited to contain a propane tank; therefore, requiring you to fix it to a gas line. 
Once customers are aware of this disadvantage, they get discouraged about purchasing it. However, improvising is possible. In such a case, I suggest that the low table be a secondary table to a bigger fire table. The tank, regulator, and hose are in the larger fire table and serve as a source of fuel to the lower fire table. In this case, the dining-style fire table will serve as a common eating area. On the other hand, the low fire table would be a relaxation and enjoyment area, mostly after meals. But ensure your customer knows that both types of the table require high positioned sits for the larger table and low positioned seats for resting at the lower fire table. 
The shape of a fire table is a crucial factor to consider when constructing fire tables. Square-shaped tables are best for a contemporary, regulated pool. However, a round the fire table is best for an irregular-shaped pool.
Note that all these considerations do not mean that building a fire feature should be expensive. Ready-made units are suitable for any layout a customer prefers. Most clients would rather know what to anticipate from the builder.
Furthermore, several measures should be undertaken when selling fire features that are already manufactured. As a pool builder, ensure you appropriately present them in your saleroom to attract more customers. Ultimately, you can also employ creativity when selling your services to portray a picture of what customers should expect in their backyards.
Pools Installation: Growth of Pool and Spa Business despite the Pandemic
Pool and spa business is prospering amid the Covid-19 pandemic. Summer is approaching, and consumers want to enjoy an exquisite backyard pool installation
Reports indicate that the pool and spa business is prospering amid the Covid-19 pandemic. Summer is approaching, and consumers want to enjoy an exquisite backyard pool installation experience in their staycation. Consumers demand on pool maintenance products and services, renovations, new structures is on the rise. Social distancing rules affected so many businesses in their sales, but not all industries felt the wrath. The pool and spa industry survived the heat due to the following factors;
1. New pool installation
The demand is high because it is the only option to enjoy summer. Most clients are contacting contractors to have pools installed in their backyard.
2. Existing pools
Homeowners want to bring the summer experience closer by improving their backyard experience. This is because they have to stay indoors and have no other option. Maintaining their pool throughout summer created a niche that the professionals in this industry took advantage of.
High loan application demands
Sarah Bess, the marketing director of Lyon Financial, specializing in loans for outdoor improvements, focusing on the pool, admits to the increase in business sales during this time. She adds that they expected a 20% increase in their sales this year. Then in March, the outbreak happened to create a lot of uncertainties and confusion. The sales went down for a short period, and it was discouraging. In April, there was a sudden and unbelievable rise in sales. The customer demand was too high, and the company was making good proceeds. This situation required that they add 10–15 employees to meet the customers' demand.
If the sales happen to decrease in June or July, it still won't take them back to where they were. The increase came about by the idea that clients have an exceptional backyard. It is not all about the pools, but the outdoor experience. Other industries that deal with the construction of the outdoor kitchen, covered porches, gazebos, etc., recorded a great increase in sales. Customers want to invest in their backyard pool installation for summer as well as for future security.
Safety precautions and retail businesses
The health crisis affected retail businesses. This is because of the social distancing rule, and clients find it hard to go to the stores to buy goods. Some retail stores adjusted to the situation to ensure they maximize their sales. They adopted methods such as delivery & curbside pick up. Companies such as Aqua Tech in Winnipeg, Manitoba, dismiss claims of the effects on retails stalls. For them, they adopted the use of contactless water testing. It is advantageous because they can still stay indoors, manage time, and it's effective for clients. They hope to continue with these services even after the pandemic. Aqua tech, now offers services like chemical only pool maintenance & water sample pick up for those unable to go to the stores. They are dealing with the situation in ways that are appealing to the customer. The crisis was a concern, but they have managed to keep up with the sales. Previously, they only received 2-3 calls a day, now they receive 5-10 calls in an hour. Additionally, the employees have had to organize themselves effectively.
Economic achievements
Richard's Total Backyard in Houston, Texas, set a new financial record in April. It is now a trend in all these outdoor products industries. Cristina Nikolov, a social media marketing manager, recalls a company meeting held at the beginning of March. They had lost hope there would be anyone willing to contract with them at this time. She even told the staff members that they should prepare for bad times.
Then came the Easter Weekend, and the flow of work was unexpected. It was a hectic month for the company, and she would now ask designers to be fast so that they can meet all the clients. Julie Richard, the Vice President, said that the surge was a result of the client's mindset. No one is certain about the future or when the lockdown will come to an end. This uncertainty has had clients opt to improve their backyards so that whatever happens, they can still enjoy their time from the luxuries of their own home. Employees and designers have had to work overtime to manage all the clients. The month of April is the best financial year in the Companies history. It is not only pools that are marketable, but also hot tubs. For Richard, he just put up a message to reach out to clients that they can have their hot tubs installed and enjoy their stay at home. That opened up a big business opportunity for the company. Crews are sent daily to install hot tubs or renovate them for their clients on weekends to reduce the workload.
Construction
The government has been supportive of this course of a backyard experience. Many companies have earned a good sum during this time because the government has allowed them to maintain their operations.The owner of Berggren's Backyard Oasis Pool Construction in Wenatchee, Micheal Berggren, also experienced the same surge in his business.
The governor of his state realizes the importance of pools in summer and can carry out their business with support from the state. They were able to do four times what they do in a year in equipment sets and cover replacement. He, however, still hopes that things will return to normal because of a few strains caused by the changes. They have to get frequent permission from the state authorities and following up with all the safety measures. He does appreciate this time as well, that was a boost to his business. He notes that the most important thing is that people get paid their salaries to feed their families.
Pool Services Assessment for Maximum Profit
It is the start of the pool season and a suitable time for companies to reevaluate their costs. Focusing on the main work is important, but at the end
It is the start of the pool season and a suitable time for companies to reevaluate their costs. Focusing on the main work is important, but at the end of the day, the work should yield some good proceeds. The ideas below are useful in profit maximization when it comes to offering pool services.
Online ordering
There is a considerable amount of time wasted in a wholesale store, as the contractors wait to order, have the orders packaged and check it out. Online ordering is a better alternative. The pool contractors can order earlier via the distributors before they leave for the worksite. Visiting the distributor is advantageous because it allows the contractor to tag along with other technicians for professional advice. Sometimes this conversation can extend to a non-productive chat, limiting productive work time.
Reduce drive time
Technicians should minimize their time on the road. This time isn't accounted for, and in business, every minute counts. When going for a project, it is important to study the service routes before leaving. Things such as school schedules, traffic patterns, and other disruptions are factors to consider beforehand. This is to avoid time wastage on the roads.
It is also important that you look at the jobs and check if it's reasonable to take up the job. The drive to device costs may cost more than the job itself. In this case, it is not worth it to take up the job. You ought to look at the farthest job and the distance to your next stop. It is wise to start with the jobs closer unless you plan on offering your services permanently in those remote areas.
If you are heading to a pool service project and you make a stop on your way, you should check the farthest project and consider if you still want to keep it. The loss of one far project can earn you two close jobs saving on time and energy and boosting cost. If you consider taking up the far projects, it may be reasonable if you charge more than close projects to cater for the drive time.
Smart buying
Purchasing goods in bulk is a smart option for those who have a warehouse space. Buying in bulk earlier puts you in a better bargaining position. This increases profits and is a great way of budgeting. It also saves the technicians stress when certain goods are in shortage due to their high demand. For this reason, they will be able to offer the best pool services to clients. The contractors can come up with an estimate of the products required during a certain season. You can base this on the sales of the previous year and speculations of the sales in the current year. For the storage of the goods, you can create space in your home. If you have no space completely, you can negotiate with the distributor to allow you to take the products in small portions, as long as you commit the purchase. Purchasing in bulk is advantageous to the distributors, so; it's unlikely they disagree with the idea. You can also combine orders with other companies to save on the cost of securing a personal warehouse.
Check on product costs
Most technicians ignore the pricing of goods they use or sell in their course of work. You should check invoices to see the cost of goods they are charging their customers and ensure you make some profit. This also helps confirm if there were any mistakes made to correct them earlier.
Special offers
Manufacturers have special offers once in a while to promote their brands. Their offer can entail buying goods in bulk at a huge discount. Contractors can take advantage of this, whereby they purchase one good at a significantly low price, and sell it at a higher price to their consumers and make some profit.
Review expenditure
You should review the expenses regularly. Services such as phones, vehicle insurance, and the internet need to be checked continuously. If there are cheaper alternatives to these services, explore them. Contact the service providers on a regular for any new discounts. Such inquiries can result in such considerations executed.
Make effective use of trucks
The truck inventory should have goods that are accessible on the service route. It is time-wasting to go to the distribution warehouse to pick up goods needed for replacement. Loss of profit is also incurred. It is important to find out what you need to stock in the truck for the job. To do this, technicians need to familiarize themselves with pools, the equipment available, and products that may be useful for the job. Balancing between the space in the truck & the required equipment is key to manage costs. All companies should invest in cheaper alternatives that are effective to maximize on their annual profits.
Backyard Pool: Opening for Business
Homeowners want to know more about how they could make their backyard pool space bigger and exciting. This is a great opportunity for the outdoor kitchen.
The current lockdown in Mid March had homeowners thinking if they want to stay in their homes or not. Staying in one area for an extended period will create a desire for re-evaluation. Homeowners are inquiring about how they could make their backyard pool space bigger and exciting. This is a great opportunity for the outdoor kitchen industry.
The outdoor kitchen not only creates space but also increases the value of the premise. Wade Fortin, the marketing manager at Bull Outdoor Products, says it's a win for both the Homeowners and the outdoor kitchen industry. The company, like others, recorded massive sales during the quarantine. They had over a million views on social media and email marketing campaigns, and over 18,000 views on their websites in one week. This created excitement for the coming season.
Fortin states that people's expectations of shopping for an outdoor kitchen will be on the rise if it hasn't. Staying at home creates the desire to invest in an exquisite backyard. Even after the reopening of some states, homeowners still have the desire to improve their home experience. Contractors can make use of the interest in outdoor kitchen markets.
A considerable addition
Outdoor Kitchen and the pool and Spa industry have always been common. Currently, it's the best time to make the most of what clients can do while staying at home.
Most times building a pool and installing an outdoor kitchen go hand in hand.

chief designer and head of product at Kalamazoo, Russ Faulk
Outdoor kitchens make the backyard pool area interesting and exciting. It gives homeowners the feeling of restaurant experience. Indoor ovens, as well as grills, cannot perform on a restaurant unit level because of the heat required. But it still is a better option for the feeling is close to reality.
An Outdoor kitchen improves the homeowner's lifestyle. It makes the meal feel like a special event. Many use their outside kitchen compared to their inside kitchen. According to Faulk, an outdoor kitchen has increased his time outside. He spends more time cooking outdoors than indoors. He is appreciative of the experience that he doesn't have to feel constrained in the walls of his home.
An outdoor kitchen further appeals to the sense of smell. Kimberly Stuteville, a national sales director at Napoleon Grills, argues that clients can take foods whose smell they are sensitive to while outside. Cooking outside is also convenient for those who don't like their homes filled with the smell of a particular food the whole day. An outside kitchen is a great place to have a good time and eliminates the need to move meals from the indoor kitchen to the backyard. Installation and maintenance of backyard pools involve a lot of money, unlike an outdoor kitchen that is cost-friendly. It is up to the homeowners to make this simple decision to add to their backyard pool experience.
Design and installation changes
The change in lifestyle caused by the Covid-19 crisis has affected constructions and installation of structures. Many homeowners disapprove of many servicemen entering their compounds. This has led to changes in designs, such as disregarding masonry, which was considered before the pandemic. Dealers are getting more requests on the installation of outdoor kitchen roofs to cater for all seasons. With the idea of spending more time outdoors in homes, consumers have opted for structures suitable for extreme weather. It has also led to an increase in the 'Do It Yourself' consumers. Homeowners who are very cautious about the social distancing rule opt to put up the structures themselves.
Webrooms and showrooms
Post- Covid, consumers will want to have an online experience of the products sold. After the crisis, social distancing will continue to be a part of people's lives, and online presence will still be applicable. Some retailers have the advantage of space that they can use to showcase their designs and products. Retailers are hesitant about web rooms because insights from the bricks and motor dealers reveal that showcasing products online will reduce the number of people coming to the store.
Kimberly Stuteville disagrees, saying that a majority of consumers start online. When they have an idea of something, they first look it up online and assume the online displays are similar to the showroom. Web rooms create all kinds of ad mats, 360-degree views, and videos, making the consumer feel like they are in the physical showroom. The physical showroom is still in existence, and after the pandemic, clients can visit the showroom for a touch and feel the experience.
If they had a virtual experience, the physical experience would make them more comfortable. Philip Chamberlain, a national sales manager at Forshaw, states that display is very key in sales. Dealers select displays based on what is marketable. It also varies depending on the geographical locations. For example, states in the South will sell more refrigerators than in the North. Kalamazoo advises that dealers invest in displays to create a feeling of what the consumer would want.
You can venture into a variety of displays, like hand sketches and detailed CAD drawings, to show what is consistent with the inside space. Other Retailers have come up with the idea of setting up their outside kitchen display outdoors, to give the consumer an exact feel of the experience. They even go as far as having food give-away prepared in this kitchen. For those with limited space, the virtual display is still an option as people believe what you show is what you sell.
Hope for growth
Before the Coronavirus shutdown, the Hearth, Patio & Barbecue Association predicted that U.S sales outdoor kitchens would increase by 16% for the 2020 season. Manufacturers have admitted to this prediction and even higher than expected sales.
This is not a new experience. Before, when the country faced a crisis, and people resulted in staying home, there was a tremendous increase in sales. With more and more uncertainty of the future, homeowners opt to invest in an incredible outdoor backyard pool experience.