ASA & ACI Guidelines Are Your Friend
The pictures in this article are ones that I took when I was called out to come look at a pool for remediation of a water loss issue. The homeowner had already contracted to strip it. The pool was demoed 4 weeks before he called me.
The porosity of the shell is evident along with the lack of coverage over the steel. This pool is a perfect example of why you should follow ASA and ACI guidelines. There have been some recent posts about shotcrete application being done incorrectly. There has been some push back about what is the big deal in not insuring that ASA and ACI guidelines are followed.
Just because you don't have a structural crack does not mean your shotcrete was done correctly. Structural cracks are caused by under engineered pools in bad soil, soil settlement, and lack of rebar in ratio to concrete. Not caring about putting rebound or wall trimmings in the floor, the strength of the air compressor, the application of good nozzle techniques, the PSI of the concrete, keeping track of the concrete coming out of the truck and water curing all contribute to a porous and under strength shell.
Floors and coves need to shot first so rebound and trimmings can be shoveled out. Trimmings and rebound are not shot concrete and letting them fall on top of the floor that you just shot is not an acceptable practice. They need to be shoveled out. The proper PSI as mandated by the ACI for water vessels is 4,000 psi minimum.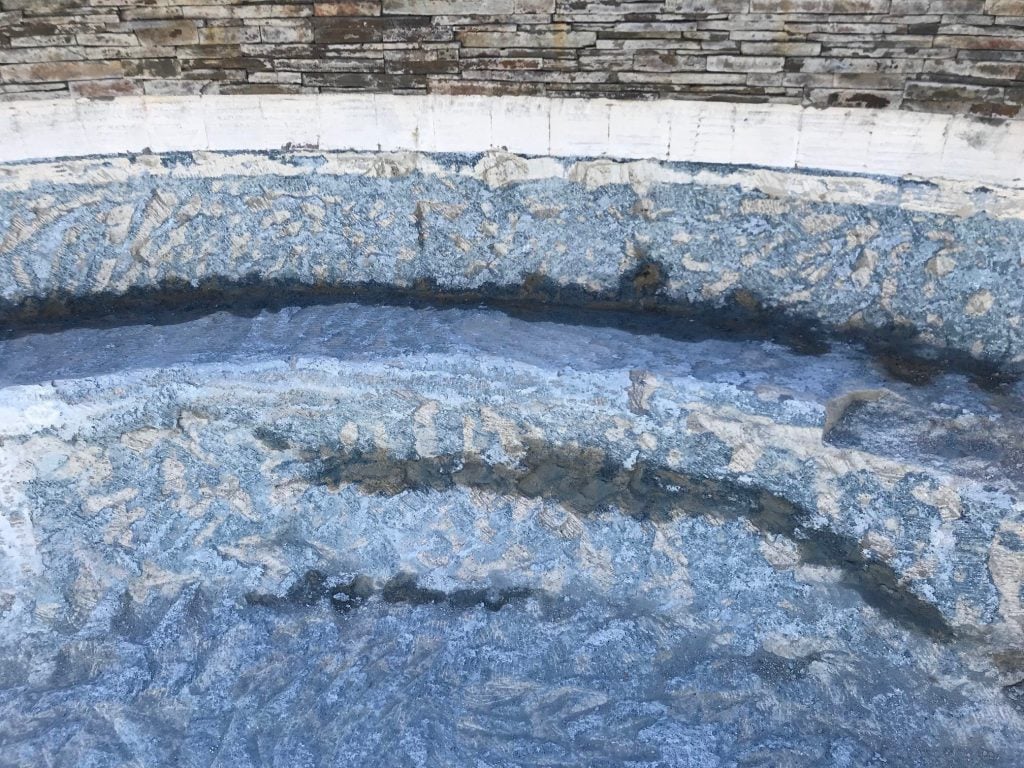 There was a discussion on an earlier post about this (in Ask The Masters Facebook group). One person was stressing that it was the water to cement ratio that gave concrete it's water tightness which is true. But let's be field practical. Most ready mix plants or dry shotcrete nozzle men cannot get a perfect .45 W/C ratio.
The shotcrete crew will invariably add water while you are in the back supervising the shot. The higher PSI concrete will have less water in it to begin with so that helps keep the W/C in check. Plus the higher psi concrete just has more cement paste in it which also helps with the density of the concrete.
I can easily tell a 2500 psi shell versus a 4500 psi shell. The 2500 psi shell looks extremely sandy and soaks up water like a sponge. My shells are shot with 5,000 psi wet mix shotcrete. the shell is so dense that it actually rejects most of the colloidal silicate that I spray onto it. For the few hundred dollars it costs to raise up the PSI in your shell you are doing your client a favor. And if the client says your shocrete price is higher then educate them on why you the price is higher. Pretty simple. 250CFM air compressors for wet mix and 650CFM for dry mix to insure the density of the concrete.
The great thing about shotcrete is that it slams concrete paste and aggregate together which creates a more dense finished product. If you have ever done cast in place walls or piers you vibrate the concrete to make it more dense and and get out the air pockets and encapsulate the rebar. Shotcrete has the same effect.
Remember the denser the concrete the more water tight it will be. Water curing is essential to keep concrete hydrated while it is curing. By keeping the shell cool and moist it will retain more water that was in the mix to begin with which also help with a denser concrete. It will also help with shrinkage cracks. Shrinkage cracks occur because water evaporates to quickly out of the concrete. Water cure your shells for 2 weeks to a month.
I have seen a lot of engineers lately mandate a 30 day water cure but two weeks should be your minimum. Soaker hoses on a timer are always a good option. Don't tell or let your client do it. It's not their responsibility it's yours!Once again I stress the first layer of water proofing is a proper concrete shell.
Grant Smith
For Those Seeking Inspiration, Not Just Education
There are moments in your life that alter your course or define who you are or what you will become — for the better or for the worse.  Some of the seminal moments are planned and anticipated.  The day you get down on one knee and propose to the person you want by your side for the rest of your life.  The moment your child takes her first breath and screams out that beautiful cry.  Others happen to you, often suddenly or without prior warning.  A car accident results in an injury with rehab and reinvention of how you operate your daily life.  How you respond to these wonderful and difficult moments becomes a window into your soul and test the character and fortitude of the person that you are inside. 
Other moments are not as obvious or jarring in nature but can be equally as impactful to the course of your life or the direction of your professional career.  These moments are often some of life's bigger decisions and will almost certainly involve a significant amount of uncertainty and risk.  Am I reading this right?  Are things lining up the way that I think they are, or am I missing something here?  You can make all the pros vs. cons lists you need (which is always a good step), but decisions are often a 'gut feeling' and can be a scary venture when you step out of a comfort zone and into a new unknown.  Which college or University should I attend, or what should I choose to study?  Should we move to another city or take a different job position?  What if I feel absolutely "stuck" in the role that I am presently in and cannot see a way out?  These less-than-obvious decision moments happen all throughout your life as well and can lead to sleepless nights and anxious deliberations over decisions that may affect the course of your career.  During these vexed considerations, we often look to others who have taken these similar steps before us.  Those who have potentially forged a path that we may follow, where we may find an example of the vision we see for our future — and guides who are ready and willing to take us there.  We seek those that will inspire us with confidence that… yes, you can take that step that feels daunting or impossible to you right now… and here is how! 
If you cannot tell by now, the words above are the script of my professional story.  As a designer at heart, I earned my degree in Landscape Architecture, then spent five years in the professional practice firm world, and soon became disillusioned with the corporate structure, office politics, and "soul-sucking" cubicle environment of what I was "supposed" to do with my career.  In the early 2000's, I found a creative outlet by taking on several residential backyard design projects, several of which involved swimming pools (something I knew absolutely nothing about at the time).  After a few successes and immense satisfaction and enjoyment, I quit my day job and began my own residential design practice with grand visions of creative freedom and artistic expression! However, financial reality quickly settled in, and it became obvious and necessary that I take on the construction of the backyard designs I created.  I became a landscape contractor, then added hardscapes, and within two years, we were a full-scale pool and outdoor living design-build construction company.  We did well overall and won awards for our projects which was great!, except for the fact that I became a contractor not out of desire for it, but out of necessity.  I wanted to design amazing spaces and build them RIGHT, but it felt like swimming upstream against a raging current every day to figure out how to do accomplish that task in a construction market that didn't care.  I was stuck as a designer that had become a contractor that consumed every minute of my day and left me only the exhausted remaining minutes to do the part of the job that I truly enjoyed — the design.  I didn't have a mentor — a leader — a guide to show me a way.  I needed to be inspired and shown that, yes, even though it feels impossible to you now, there is a way… and here's how!
The irony is that the answer was right in front of my face, literally every month, and for eight years.  I would get the monthly industry magazines — PSN, Aqua, Watershapes, etc. — and would see and read about this group who called themselves Genesis.  They were designers and contractors and leaders from across the country and, WOW! — I couldn't believe the work and level of detail and scale of what they produced.  They would travel the country and design and build these incredible watershape masterpieces and win National Awards, all while wining and dining with millionaire clients like they were living an episode of "Lifestyles of the Rich and Famous".  Then they would go and hold two or three educational 'events' each year where they would share their knowledge with whoever signed up to attend — and they would have FUN doing it!  I read the accounts of the intense classes, then followed by great dinners with food, and wine, and parties where they called themselves pigs, dressed in togas, and cut loose to all have fun together. 
For eight years I kept watching this group grow and evolve, wishing I was a part, but for eight years I did not join.  Why?  (Honest moment here).  I was intimidated.  My wife and I would go to the International Pool & Spa Expo and circle the booth, not feeling worthy of joining in.  We would pick our moment, jump in to introduce and say how much I admired their work, talk for about two minutes, then jump back out and catch my breath.  Who was I, this designer from Tennessee who was struggling to make it as a contractor, that they should give me the time of day?  The mystique was a barrier keeping me from the potential that could be unlocked.  
Until I finally hit a breaking point in 2010 where I just freaking did it.  I flew out to San Diego and took my first class, and it was a career-defining epiphany moment that ended up altering my professional course and defining who and what I was to become.  And here is the real point of this article — it wasn't about the educational class or the information that I learned during that three-day event.  I took the base design class (thew one that I teach now) and already had a firm foundation on the material.  It was about the people.  Once I met the people behind the image and got to know them, the aura and mystique fell away and I was comfortable to join in the experience. 
Over the next years, I became inspired. I was inspired by the people that were and are the true leaders in our industry.  Brian Van Bower (the Rodney Dangerfield of the pool industry) and Skip Phillips, who together were the visionaries that started the entire advanced industry education revolution.  I was inspired by Paolo Benedetti (the walking Bible of pool construction detail knowledge) and Bill Drakeley (who emphatically set the bar for shotcrete construction standards 20x higher than industry standard and implores you to think way above the minimum required).  I learned everything I know about pool system hydraulics from Dave Peterson through mind-numbing engineering classes, which are not the easiest for a right-brained designer, but hands-down the best overall class experiences I have had.   I was blown away that Rick Chafey and Dave Penton, two of the master builders behind the most amazing projects that keep being produced year-in and year-out, could also be so personable, easy-going, and open to new people who want to improve.  I was inspired by Feras Irikat and his ability to make hardened, seasoned contractors talk enthusiastically about colors, and client psychology, and design!  And by Kirk Bianchi, whose mild-mannered style and cerebral design-brain is one that I will always strive to understand and emulate.   I was inspired by Grant Smith and his detailed, methodical approach to construction that followed his regimented Marine Corp background — and his close friendship before his passing as we rose through the ranks of the industry together.  And, of course, I have been inspired by the three ladies — Lisa Ryckeley, Katie Junkers, and Lauren Stack — that, across multiple organizations and decades, have managed to be the hearts of their organizations and keep all the people and personalities in line (well, for the most part), and events moving forward as the baton gets passed to the next group of leaders who will rise ahead. 
The truth is, while WHAT you know is very important, ultimately it is the WHO you know that plays the biggest impact on your career success. You will always run up against new "what's" that you don't know, but if you know who to call/text/message about what you don't know, then you will soon know that "what" that you needed to know! And this is the reason why I am such a believer in the advanced education opportunities in our industry. The people behind the education — the teachers and leaders — are the invaluable asset that are living examples of a vision you may have for your future, and they are ready and willing to guide you on your journey and inspire you with confidence that… YES, you can take that step that feels daunting or impossible… and here is how!
And … we all tend to have a lot of FUN doing it! This is not a boring industry, either in what we design and produce, or how we enjoy our finished products with our clients, or the time spent with the people involved in creating them. And while the old pigs and toga parties may be a relic of past days, the fact that these shows and educational event gatherings are a blast to be a part of remains. We become a fraternity — a brotherhood spread across the country and beyond that comes together several times a year to learn more, hone our skills, enjoy friendships, and to cut loose and have some fun together! The organization names, event locations, and educational formats may change. That is the nature of business and ultimately of no consequence to students fighting their own battles and seeking a vision for their future.
Look at where you are in your company and in your career path.  If you feel stuck or trapped, or if you are fighting a battle alone or swimming upstream against a raging river of market circumstances against you, then do not sit back for eight years (again, me) to watch and wait for external industry circumstances to work themselves out.  Look for who is out there that inspires you.  Who is producing the work out there that makes you stop scrolling on your phone and say, "WOW!" No matter what side of the industry you call home, there are leaders in that sector ready to guide and direct and inspire.  Don't let intimidation or cost or inconvenience or fear keep you from taking a step that could lead to unlocking the potential you have for your career and your future.  All of the investment costs — both in time and money — may seem large now but will be your best investment decision when you consider not just the information you will learn, but more importantly, the leaders you will meet and the potential for the "lightbulb" moment of inspiration that may just alter your path and set you on a new course for your career — it certainly did for me! 
Photo Credits: Jimi Smith Photography
An Open Letter To Home Depot
Home Depot commercial may portray pool builders in a negative light and give misleading information to consumers.
For decades, my associates and I have tirelessly worked to enhance the knowledge and image of pool builders as highly skilled professionals through educational seminars, technical publications, hands-on demonstrations, certifications, and licensing in many states.
Yet, in your recent commercial, those efforts were thwarted by your organization's portrayal of a pool builder.
The commercial, "Meet the kind of people who are in our parking lot at 5:45 a.m." portrays pool builders with an old stereotype – a guy with an old beat-up truck and notepad drawing.
The video pans in on each of the "people" in their vehicles as the voiceover describes their profiles and why they are coming to The Home Depot. The last profile is Ed… "Ed's putting in a pool for a friend… we all need an Ed!" The visual is of Ed making notes on a pad. As the commercial continues, the store opens and each of the "People" climb out of the vehicles to go inside. "Ed" with a window sticker "my other truck is a boat", walks away from his vehicle, an old beat-up truck.
The original 1-minute commercial produced by BBDO Atlanta/BBDO New York was released in March 2022. A shortened 30-sec version was also released.
As a licensed pool contractor in Las Vegas, Nevada, a Certified Building Professional, and former director on the Pool and Hot Tub Alliance national board, I take offense to how your commercial depicts my industry. Not only is this commercial insulting to the many highly educated pool professionals across the US and internationally, but it also encourages the viewpoint that pool builders are simply a guy with old trucks and notepads. Furthermore, "friends" don't know everything there is to know about building a safe and efficient pool.
There are many states that require licensing for pool construction. Most have specific guidelines such as building standards and regulations, ANSI and ISPSC codes and in some states- water use restrictions just to name a few.
Nevada homeowners do have the option to build their own pool. However, the Nevada State Contractors Board has outlined in strict detail the guidelines for such activity including registering the project, permitting, insurance responsibilities and mandatory use of licensed sub-contractors to do the work.
It is a crime for an unlicensed person to perform construction work even on an owner-builder pool project and that includes one's "friend".
While it seems that your creative team at BBDO wanted to capture a variety of individuals, needs and projects, they did not take time to consider the negative and dangerous implications of the "Ed" character."
The Home Depot commercial could sway an unlikely consumer to seek a "friend", an unlicensed and untrained individual to install their pool, jeopardizing the wellbeing of the family both physically and financially.
Ed might be better off "Putting in a garden for his wife!"
Pool Tile Installation Starts With Using Proper Materials
Proper pool tile installation on vanishing edge walls will prevent clients from thinking that the pool wall is leaking.
It all starts with using the proper pool tile material. Once water begins to infiltrate behind the tiles of the swimming pool, a whole bunch of problems can arise.
Efflorescence in Pool Tile
Efflorescence is carried to the surface from the shotcrete, thin-set or grouts. Even epoxy setting materials can promote efflorescence.
When It Comes to Pool Tile Installation, Setting Materials Make a Difference
Epoxy setting materials are not 100% epoxy. Many still contain cement-based components. The technical sheets for most epoxy thin sets and grouts contain a disclaimer about efflorescence.
Water Getting Behind The Tile
After the vanishing edge is turned off, areas on the wall may continue to be wet for hours – simply from water trapped behind the tiles. This is where many pool tile failures occur.
Water streaming out of cracks in the grout when the vanishing edge system is on, is another indication of voids behind the tiles.
But when a customer sees any sign of water on the "dry side" of the wall, they immediately think the wall is leaking. While this may sometimes be the case sometimes, in most instances, it is merely an improper tile installation.
Prevent Tile Failures – Know The Codes
The TCNA specifies that 95% of the tile must be in contact with thin-set. This can be achieved by back buttering and knocking down the comb/gauge marks. Failing to provide movement joints causes the corners to split and crack as well.