Shipping Container Pools Are Becoming Popular
Over the years, there has been a broad spectrum of innovations in all industries. But did you know that shipping containers can now be converted into swimming pools? Paul Ratham of Modpools says that shipping containers can now be world-class pool vessels that offer exceptional functionality at a lower price point than traditional inground pools. Aside from transporting cargo across the whole world, builders are repurposing shipping containers to create swimming pools out of them that homeowners love.
Generally, shipping containers often go to waste after several years of use. So, Paul Ratham started utilizing these boxes in a completely different way a few years ago. Ratham began creating swimming pools out of used shipping containers that had traveled all over the United States. Not only that, but his novel approach towards pool construction began to take off and pique the interest of homeowners.
As a result, he was able to meet the increased demand and has created many pools during the global pandemic. Shipping container pools are becoming more popular because they are easy to install and portable, meaning in most cases you can easily transport these pools from one location to another. This appeals to homeowners who want a pool but may not be tied to their forever home yet. Additionally, shipping container pools can accommodate a wide range of water features.
Where did this idea come from? Ratham says, "Pools are undoubtedly excellent sources of entertainment and relaxation. When you have a pool, you can create a mini staycation in your backyard." With this information in mind, Paul thought of converting shipping containers into viable swimming pools. He was already transforming shipping containers into spaces like homes and offices. However, he noticed that he could do even more with shipping containers by repurposing them as functional swimming environments.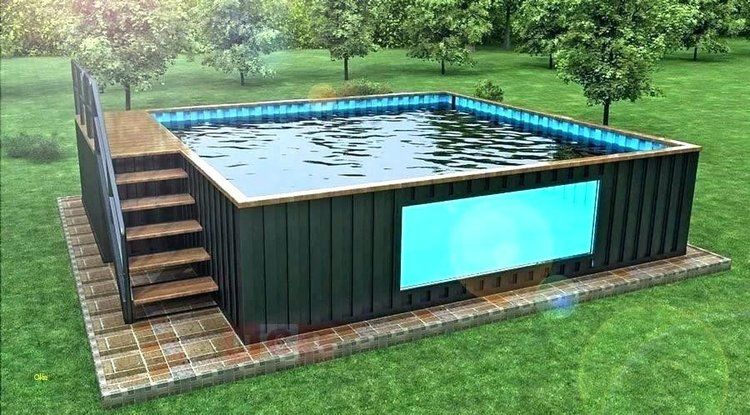 The formation of Modpools
After several years of building and remodeling shipping containers into pools, Paul Ratham formed Modpools. That company is responsible for creating many of the shipping container pools being sold today.
Ratham initially invested in shipping containers that carried different products. He says, "Most containers that reach North America don't go back. This is because North America does not have a lot of commodities to send to China. So, most shipping containers that reach North America end up going to waste. Converting these containers into something functional is, therefore, a good idea."
Tips for creating quality shipping container pools
Today, Ratham also tries his best to purchase shipping containers that have been used only once. Newer containers are often cleaner and dent-free. He does not want people to think that his pool containers are used garbage cans. It can be hard to sell homeowners on the concept that pools can be made using old shipping containers. Even so, more people are now becoming familiar and open to shipping container pools as an alternative to traditional inground pools. So much so, that they are willing to overlook the aesthetics and focus on the functionality these pools offer instead. Ratham, therefore, says that it is much easier to sell shipping container pools at the moment simply because the demand for pools has been so high. With that being said, shipping containers are ideal for homeowners with a limited budget and yard space.
Pros of shipping container pools
Shipping container pools do make outstanding lap pools
They are often more affordable than other swimming pool types
You might not require a gate if the container is above ground
Installation can often be completed within a single day
They are an elegant and stylish alternative to other types of pools
Cons of shipping container pools
They can be just as expensive as an ordinary inground pool when fully customized
The shipping container look is an acquired taste and may not be for everyone
Shipping container pools may only offer one entry & exit point for swimmers
Most shipping container pool systems are not designed for a saltwater system
All shipping container pools are basically the same shape
Manufacturing shipping container pools
Creating shipping container pools are not as complicated as most people think. All you have to do is customize the container. Cut the 20 x8 feet or 40 x8 feet shipping container into your preferred pool size. Then shape it according to your desired layout. Modpools often conduct this process at their warehouse. Luckily, you can always expand the container through welding to create even larger sized pools. Therefore, the shipping container pool does not have to be constructed on your property.
Consequently, you won't have to deal with the noise of pool construction. Instead, you can create an inground, aboveground, or partially aboveground pool using a shipping container. Once the pool is ready, manufacturers transport it to your site for installation. You can customize a shipping container pool to match your requirements. Additionally, you can add water features like hot tubs in the container pools to make your container pool more full featured.
Last year, the global pandemic forced a majority of homeowners to consider revamping their outdoor spaces in lieu of traveling. As a result, there was an increased demand for pool construction services. Shipping container pools are also in high demand for homeowners who want to save some coin. Consequently, manufacturers like Paul Ratham had to buy shipping containers in bulk to deal with this surge in demand.
The typical size Modpool is eight feet wide by twenty feet long and a little more than five feet deep. It also has a clear, acrylic window on one side, which is an appealing and cool design aspect you wouldn't expect to find in a shipping container pool. Customers can choose to install another acrylic glass on the other side which many often opt to do.
Final thoughts
Although the increased demand for pool installation has been hectic for most contractors, Paul Ratham's business has grown tremendously over the past year. He says that Modpools has been responsible for installing 800 pools in North America in the past year. This is because homeowners are remodeling their outdoor spaces to make a summer spent at home more enjoyable for their families.
Movable Floors are Taking the Pool Industry by Storm
If you think you need a large backyard or living space to build a pool think again. In 2023 swimming pools will be seen in new shapes, sizes and feature high-tech automation to fit any indoor or outdoor space. One high tech pool feature that is becoming increasingly popular is the movable pool floor.
When most people think of a swimming pool, typically they imagine space devoted exclusively to the pool. The thought that this same space could be used multifunctionally wouldn't occur to them. Imagine having a party in the backyard with your friends or your family, BBQ fired up and all that is missing is a swimming pool. What if you could magically change your patio into a full-size swimming pool? With the push of a button the water gently starts flowing across the movable floor. The color of the tiles fades away into a tropical blue color and the pool magically appears.
All that's left to do is tell your astonished guests that the pool party can begin!
The technology behind a movable pool floor
For more than 50 years, Tieleman Pool Technology is the mastermind behind these floating movable pool floors. The unique Tieleman movable floor system consists of a stainless steel 316L floating platform which features a series of cables and a pulley system with a water-based hydraulic cylinder.
The strong base of the movable floor provides a bearing capacity of over 100kg per m² (220lbs per ft²). Integrated in the structure are solid buoyancy devices that allow the pool floor to float to the surface. This implies that all technology is concealed within the frame of the movable floor and thus no cables along the pool wall, which ensures a high level of safety and clean finish.
The floor can be adjusted to every desired depth. When the floor is moved, the water will gently flow through the small gap between the floor and the pool wall. Within about four to five minutes your patio or living space is transformed into a full-size swimming pool. If you would like to see various movable floors you should definitely request the free brochure here .
Benefits for pool owners
A movable pool floor is not just high-end engineering and design. Besides the fact that a movable floor allows you to use your pool multifunctionally, it has numerous benefits in store for pool owners.
A movable floor enables you to adjust the water depth of you swimming pool according to your personal preferences. This increases safety for users, especially children. In a raised position the pool is inaccessible for incorrect or unsupervised use.
The historic drought , particularly in the western and southwestern United States, has led to an increasing demand for sustainable solutions that significantly reduce pool water evaporation. In a raised position, the movable pool floor prevents water evaporation, heat loss and ensures lower heating costs through insulation integrated in the floor.
The movable floor system is very convenient and therefore user-friendly. The operation is controlled via a simple push button, a touch panel or a mobile device, which can be equipped with passwords for different users.
Eye-catching details and architectural integrity
It is no longer a secret that flexibility and functionality of space, architectural integrity and, last but not least endless customization, can no longer be dismissed from luxury residences and swimming pools in the year 2023. As Steve Jobs (co-founder of Apple, Inc) once said: "Design is not just what it looks like and feels like. Design is how it works."
As a swimming pool and its movable floor form an essential part of the architectural stronghold, Tieleman exclusively engineers each movable floor to incorporate the ideas and options desired by the client.
And that is why Tieleman is definitely setting the bar with their movable floors and associated options. The shape is only limited by the available free space and additional features (integrated stairs, integrated sun deck/lounge area, swim-out benches e.a.) are engineered and designed to match the pool and its surroundings. So whatever idea you have, with a Tieleman movable floor the possibilities are endless.
A great opportunity for pool builders to expand their business
It can be challenging for pool builders to compete due to the constant trends in the industry. Therefore, pool builders and designers must find ways to stay innovative. In turn, movable floors give pool builders access to a new niche market, allowing them to increase sales, revenue and profits. In fact, industry experts predict that movable floors will not only take the pool industry by storm but even grow to become a household name within the industry. So definitely something to keep an eye on.
Follow us on Instagram:
https://www.instagram.com/tielemanpooltechnology/
Million Dollar Pool Design Challenge Winner – Rance Schindler
Pool Magazine takes a deep dive into the Million Dollar Pool Design Challenge winning entry by Rance Schindler.
Pool Magazine is proud to have been one of the sponsors of this 2022's Million Dollar Pool Design Challenge at the PSP Deck Expo in Las Vegas. The winning design was done by up-and-coming designer Rance Schindler who blew away the judges with his $10,000 winning entry, courtesy of Riverflow Pumps by Current Systems.
The annual competition is the brainchild of renowned designers Mike Farley and Reid Schindler, and it seeks to promote cutting-edge ideas for backyards by doing away with financial restraints. Designers are invited to enter the competition and create the ultimate outdoor oasis for hypothetical clients on a million-dollar budget.
Entrants in the 2022 competition were tasked with creating an outdoor living oasis for a husband-and-wife pair of lawyers in Chicago, Illinois. Designing the ultimate backyard for these dream clients meant planning a seasonal space that would prioritize health, wellness, and self-care.
Some prerequisites for submissions were that the design should incorporate a few wish list items:
The Wishlist
The Site
Home has a lower terrace area, front approach, and rooftop terrace.
Seasonal usage of space, designer should consider wind, sun direction, shade, and the Chicago climate.
Clients goal for the space is a space to unwind.

Aesthetics & View
Keep the view open if possible, but they also want privacy.
Preferred to have natual elements, but they love structured design.

Pool & Spa
The pool is for health, wellness, and self care.
They are looking for a complete setting, not just a swimming pool.
A hot tub and cold plunge are needed, possibly a sauna.

Elements to Include
A fire element to gather around.
Cool lighting.
The use of a Riverflow Pumps by Current Systems product (lazy river or swim jet system).
A real or synthetic lawn space.
The use of Ledge Lounger furniture.
An outdoor kitchen.

Other Considerations
The couple will entertain/host six to 12 guests maximum.
The wife teaches yoga and barre as a hobby, and wants a space to exercise and cool off.
A large number of entrants tried out for the Million Dollar Pool Design Challenge, but only a select few were invited to Las Vegas to show off their skills. PoolHaus's Brent Dutton, Old State Landscape's Whitney Morris and Stephanie Carnahan, Complete Exterior Solutions' Rance Schindler, Randy Angell Designs' Brad Holley, and AquaTerra Outdoors' Minsung Kim, Karishma Karki, Paola Hidalgo, and Sameepa Modi were also finalists.
Entries were evaluated by an expert panel of judges based on the following factors:
1. Aesthetic Quality – Is the concept's form pleasant to look at?
2. Differentiation – Is the concept "fresh" & unique? ​
3. Functionality -Does the concept meet the criteria of the families needs? Does it consider all elements site analysis?
4. Realization Possibility – Is the concept buildable if the client decided to move forward with construction? ie. topographically, features, function​
Let's take a look at this year's winning design by Rance Schindler of Complete Exterior Solutions. One of the prerequisites of the client was shade.
This design answers that request with a large tree that shades the outdoor living space and becomes a central focal point of the backyard.
The design plan also features a lovely rooftop dining and conversation area as well as an outdoor kitchen.
A gorgeous glass deck overhangs the entire outdoor living space and looks down on a smartly appointed pool, fire pit, and lounging area below.
Think you've got what it takes to enter next year's Million Dollar Pool Design Challenge? Learn more about this contest and how to enter.
Designing Pools With Passion – Joan Roca Master Pool Designer
After close to 50 years in the pool industry, Joan Roca is still making waves. We go one on one with Joan Roca, Master Pool Designer.
Pool Magazine is proud to present an exclusive interview with internationally acclaimed, award-winning pool designer Joan Roca of Joan Roca Master Pool Designs. For those unfamiliar with Roca's work, he is a true artist in the world of luxury swimming pool design, with a passion for creating breathtaking, one-of-a-kind pools for his clients.
For Roca, building pools is more than just a job – it's a true passion. From the moment he begins working with a new client, he is focused on bringing their dream pool to life, taking the time to carefully listen to their vision and incorporate their unique style and preferences into the design. It's this dedication to excellence and attention to detail that has earned Roca a reputation as one of the premier pool designers in the industry.
In this special feature, we had the opportunity to sit down with Roca at the International Pool Spa Patio Expo and learn more about his approach to pool design, his favorite projects, and what sets him apart from the competition. Keep reading to get an inside look at the world of Joan Roca Master Pool Designs, and discover why this talented designer continues to make waves in the pool industry.
One-on-One Interview With Joan Roca
PM (Pool Magazine): How did you first get started in the pool industry?
JR (Joan Roca): "I am an industrial engineer. I graduated from the University of Costa Rica in the early eighties and I've been working in the swimming pool industry since 1975. Back then, I was a kid working along with my father. That's when I really fell in love with the pool industry."
"In 1982, was my first international pool experience, I really fell in love with that as well. It was more amazing than I thought it could be. Since then I started coming here every single year to all of the expos and even some of the regionals in Florida to expand my knowledge and learn more. When you come to the expos it's a great opportunity to go to seminars. One way or another you always learn something. It was there that I had the luck of meeting the three founders of Genesis."

"I did all the programs that they had. You know, if you are an engineer or a doctor or whatever and you wanted a master's degree or PH degree, there are hundreds of universities in the world where you can go to get it. But if you're a pool builder, there was really no place to study something like that. So they created a program called Genesis. I did the whole thing, and I became the highest category, which is the master pool designer."

"That's why I am a master pool designer. It's not just a name that I came up with. Since then, I've been enjoying even more of what the profession has to offer. Since then, I've been designing with more confidence and more acknowledgment. So practically all my life I've been doing this and have been blessed with a lot of success.
PM: What was that you learned in the Genesis program that gave you the knowledge and the confidence to go out there and dominate?
JR: "Genesis gave me the ability, confidence and, technology to add to my passion and talent. If this was basketball – on your own, you can train and train and still never be like Michael Jordan. If you have the talent inside you to be a star, Genesis will bring that out of you."
PM: What inspires your design process and how do you work with a client on helping them conceptualize their ideal outdoor living environment?
JR: "Well, the question is not easy because what inspires you? I was thinking about this question, and I think that what inspires me is the site. When you actually visit to the place as a designer, you are there, you see it, you feel it, you see the architecture of the house, of the buildings, whatever it is.

"It's at that time that you see the view, the weather, how the sun is moving. Is it a cold place, a tropical place? How is the garden, the landscaping? This is where I get my inspiration and of course, knowing who is going to swim there. Is it going to be a family? Is it going to be a condominium? So it's going to be a group of families, a multifamily place. When I am there, I'm imagining what the area will be and that is what inspires me to take my paper and pencil and start designing."
PM: What we enjoy about your work is that really, no two pools are quite exactly alike. Can you explain your design philosophy?
JR: "Every pool is different because when I sit at my drawing table to design a pool, I start from scratch. I sit there and I say, okay, we have the images of the property, the survey and all the notes that I wrote when I interviewed my customers."
"I start by making a shape that conforms to all that information. Taking all that information and translating that into a drawing. When I show it to my customers, most of the time, they say, 'Wow!' and we may make a few revisions or small changes. But always my first original drawing is usually a wow because it's a response of all the information that I got from my customers. I don't know if that is a philosophy, but all I do is listen to my customers and make sure I'm designing what they wanted, not the way I want it. I'm adding my point of view, but the way that they want it. Maybe that's just me being altruistic."
PM: You've been in the pool industry since 1975. What's changed about building pools since you first started?
JR: "When I started building pools, I remember that my father used to do everything in one and a half inch. One skimmer, one main drain, one and a half inch, one pump."
"In that time, everything was very simple. I think that mainly what has changed the most is technology. Now we have pumps that are so quiet, you don't even know they are there. Technology changes a lot and maybe some tendencies. Like in the past, people used to have very deep pools. People these days understand that they don't need an 8-foot deep pool with a diving board. This is one thing that might have changed substantially. Now, in the majority of my pools, are designed with an overflow or vanishing edge. The decks used to be more with some kind of mix of aggregate and cement and things like that. Now they are using much more natural stone."
PM: What's hot and trending in your local market of Jacksonville right now?
JR: "Well, it is one of the 20 cities I read about in an article before I came to Jacksonville. Jacksonville was rated one of the 20 better cities to live in the world. Now that I live here, I can tell you first-hand that the quality of life there is high. Most of the people, when they want a pool, they don't just want something average. They want something nice like a showpiece for their backyard. They figure, if they can pay a designer to have a custom pool, why not do it if they have the money"
PM: What are they putting in these pools that make them like such a focal piece of the backyard?
JR: "For example, a perimeter overflow that probably carries an extra pump, an extra filter, and maybe has a surge compensation tank. Talking about and all the gutters that you have to do underneath the deck, that's probably another $30,000-$40,000 more than an average pool just to have that feature."

"I had a project in Costa Rica where the customer paid $1.5 million. People said, what? You did $1.5 million pool in one house? Well, we built two pools, one indoor pool, and one outdoor pool. The outdoor pool has a waterfall, a spa, an infinity edge, and a spa. The interior pool has lots of details that make the project more expensive too. You add three or four fire bowls, and because you have those kind of water features, the pool gets more expensive."
PM: You're doing projects all over the world. What's that process like for you and how do you manage that kind of remote work?
JR: "Well, it's not the same, because as I told you before, my first inspiration is going to the site. What I do in those cases is ask the customer or somebody there to take photos of the property, make videos, and try to get as much of that feeling of being there, as possible."

"It's not quite the same. Even if you understand the situation when you see a video and you know what is on the right side and left side, what trees you have there, and the view, it's still not the same as being there, but it does the job."
"During the height of the pandemic for example, I was at my property that I have in Costa Rica which is about 200 acres. I got a call from a customer in Toronto. They bought a property in Panama, and they were looking for a designer on the Genesis website. They saw that I was from that area so they hired me. I think that was one of the first ones I did remotely."

"I told the customer, I've never done this before without visiting the job site, but let's try it. Well, it's been a success, but I still felt it could have been better if I really knew the place and had been there. But I think that it's just where we were at the time, you couldn't really travel.
PM: Were they happy with the design you did for them?
JR: "I mean, they were happy, and I'm happy, but what happened is that I went to the place right after the pandemic finished. When I got there I start understanding things that I never understood just from the pictures and the videos."
PM: What do you foresee the next couple of years looking like for our industry?
JR: "Well, the whole industry has always been up and down other than in 2008. It's my gut feeling that things are going to be okay. What could be affecting things with economy right now is the situation with Russia and their war in the Ukraine, for example. In Jacksonville, there are a couple of customers that I designed a really nice pool for, people unrelated to each other and they decided to the pool builder, to wait until they see what happens there. I think that this "wait and see" way of thinking could be happening with more and more people."
"They may be thinking 'We're ready to make that investment, but let's see what happened there first'. But besides that war, I don't think the pandemic is going to really affect things in our industry going up or down. That has been more or less established."
PM: When you look back at the few decades and your own body of work, what are some of your favorite projects?
"I have maybe two pools that I like more. And why do I like them more? I don't know why. Why do some people think Sofia Loren is more beautiful than Rachel Welch? What I'm saying is that it's very personal. Both are beautiful, both are the greatest."
"I have a pool that I did just for me back in 2000 and I think it's one of the best swimming pools in the world. But maybe that's because I get to enjoy it. All the pools that I did for other people are really nice but I don't enjoy them as much because I don't use them. Now my pool in Costa Rica, it's an amazing oasis. For some reason, that place, the pool, the surrounding, the view, the mountains, the house, the rocks, it's very special."
"I also built a pool in Panama for a really rich family in a remote place, a pool that was surrounded by mountains. Beautiful. I really love that project. It was one of the pools that they show on the front cover of magazines. But yeah, those are the ones that personally resonate."
PM: What is some advice that you would impart on professionals that are looking to design and build the way you do?
JR: "The first thing that came to my mind is dedication and integrity in their work. Whatever you do, even if you are a shoemaker, soccer player, teacher, do it with dedication. If you put dedication into your work, the first 50% is done."
"And then, integrity – in the full concept of the word. Do it well, with the right skills, and make it with passion and respect. Apply all your knowledge, technology, and abilities in each and every design that you do. Above all, pay attention to your customer."
About Joan Roca Master Pool Designs
Joan Roca (Barcelona 1958) emigrated to Costa Rica in 1973 and began his career in the swimming pool industry in 1975. A member of the Association of Pool & Spa Professionals (APSP) since 1982. He graduated as an Industrial Engineer in 1984. Certified in 1986 by the National Swimming Pool Foundation (NSPF) first as Certified Pool Operator and then in 1988 Certified Pool Instructor.
In the following years he continued his studies through educational programs and more than 200 high-level seminars, and in 2005 he was certified as a Certified Building Professional by the APSP and graduated Master Professional.
Watershape Designer SWD at Genesis University, creating his recognized swimming pool design and construction company under the seal of JOAN ROCA MASTER POOL DESIGNER
Three times awarded Master of Design by Pool & Spa News: 2008, 2014 & 2018. Over the years his work has been recognized and awarded internationally 19 times. Several publishers around the world have admired his creativity publishing his work in books in 7 languages and has been on the front cover of 16 prestigious magazines in the USA: Luxury Pools, Aquamagazine, WaterShapes, Pool & Spa News.
In 2013 he obtained a Master's degree at INCAE Business School moving his head office to Panama until 2020 to attend Latin America. In 2021 he moved to Jacksonville, Florida, expanding his work worldwide.
The excellent work of his firm has contributed to raising the quality of the swimming pool industry to the highest level.
Joan Roca, with 47 years of experience and more than 1,000 swimming pools under his belt, residential and commercial, fountains, reflecting pools and water gardens, in design and construction, turns outdoor space into a work of art, combining natural and avant-garde elements with the latest technologies.
Listen to our entire interview with Joan Roca at the International Pool Spa Patio Expo in Las Vegas on the Pool Magazine podcast.