Shipping Container Pools Are Becoming Popular
Over the years, there has been a broad spectrum of innovations in all industries. But did you know that shipping containers can now be converted into swimming pools? Paul Ratham of Modpools says that shipping containers can now be world-class pool vessels that offer exceptional functionality at a lower price point than traditional inground pools. Aside from transporting cargo across the whole world, builders are repurposing shipping containers to create swimming pools out of them that homeowners love.
Generally, shipping containers often go to waste after several years of use. So, Paul Ratham started utilizing these boxes in a completely different way a few years ago. Ratham began creating swimming pools out of used shipping containers that had traveled all over the United States. Not only that, but his novel approach towards pool construction began to take off and pique the interest of homeowners.
As a result, he was able to meet the increased demand and has created many pools during the global pandemic. Shipping container pools are becoming more popular because they are easy to install and portable, meaning in most cases you can easily transport these pools from one location to another. This appeals to homeowners who want a pool but may not be tied to their forever home yet. Additionally, shipping container pools can accommodate a wide range of water features.
Where did this idea come from? Ratham says, "Pools are undoubtedly excellent sources of entertainment and relaxation. When you have a pool, you can create a mini staycation in your backyard." With this information in mind, Paul thought of converting shipping containers into viable swimming pools. He was already transforming shipping containers into spaces like homes and offices. However, he noticed that he could do even more with shipping containers by repurposing them as functional swimming environments.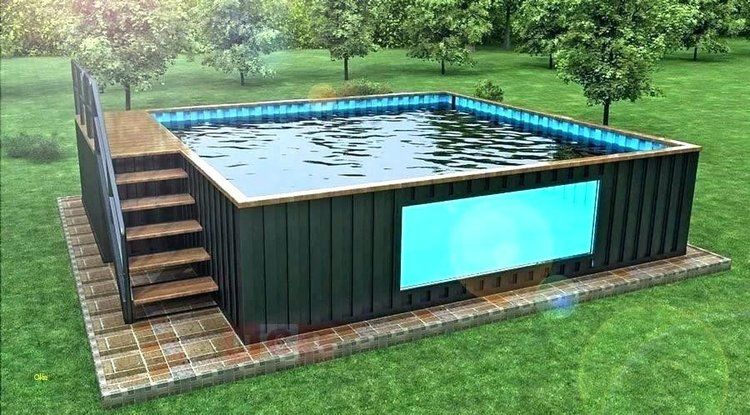 The formation of Modpools
After several years of building and remodeling shipping containers into pools, Paul Ratham formed Modpools. That company is responsible for creating many of the shipping container pools being sold today.
Ratham initially invested in shipping containers that carried different products. He says, "Most containers that reach North America don't go back. This is because North America does not have a lot of commodities to send to China. So, most shipping containers that reach North America end up going to waste. Converting these containers into something functional is, therefore, a good idea."
Tips for creating quality shipping container pools
Today, Ratham also tries his best to purchase shipping containers that have been used only once. Newer containers are often cleaner and dent-free. He does not want people to think that his pool containers are used garbage cans. It can be hard to sell homeowners on the concept that pools can be made using old shipping containers. Even so, more people are now becoming familiar and open to shipping container pools as an alternative to traditional inground pools. So much so, that they are willing to overlook the aesthetics and focus on the functionality these pools offer instead. Ratham, therefore, says that it is much easier to sell shipping container pools at the moment simply because the demand for pools has been so high. With that being said, shipping containers are ideal for homeowners with a limited budget and yard space.
Pros of shipping container pools
Shipping container pools do make outstanding lap pools
They are often more affordable than other swimming pool types
You might not require a gate if the container is above ground
Installation can often be completed within a single day
They are an elegant and stylish alternative to other types of pools
Cons of shipping container pools
They can be just as expensive as an ordinary inground pool when fully customized
The shipping container look is an acquired taste and may not be for everyone
Shipping container pools may only offer one entry & exit point for swimmers
Most shipping container pool systems are not designed for a saltwater system
All shipping container pools are basically the same shape
Manufacturing shipping container pools
Creating shipping container pools are not as complicated as most people think. All you have to do is customize the container. Cut the 20 x8 feet or 40 x8 feet shipping container into your preferred pool size. Then shape it according to your desired layout. Modpools often conduct this process at their warehouse. Luckily, you can always expand the container through welding to create even larger sized pools. Therefore, the shipping container pool does not have to be constructed on your property.
Consequently, you won't have to deal with the noise of pool construction. Instead, you can create an inground, aboveground, or partially aboveground pool using a shipping container. Once the pool is ready, manufacturers transport it to your site for installation. You can customize a shipping container pool to match your requirements. Additionally, you can add water features like hot tubs in the container pools to make your container pool more full featured.
Last year, the global pandemic forced a majority of homeowners to consider revamping their outdoor spaces in lieu of traveling. As a result, there was an increased demand for pool construction services. Shipping container pools are also in high demand for homeowners who want to save some coin. Consequently, manufacturers like Paul Ratham had to buy shipping containers in bulk to deal with this surge in demand.
The typical size Modpool is eight feet wide by twenty feet long and a little more than five feet deep. It also has a clear, acrylic window on one side, which is an appealing and cool design aspect you wouldn't expect to find in a shipping container pool. Customers can choose to install another acrylic glass on the other side which many often opt to do.
Final thoughts
Although the increased demand for pool installation has been hectic for most contractors, Paul Ratham's business has grown tremendously over the past year. He says that Modpools has been responsible for installing 800 pools in North America in the past year. This is because homeowners are remodeling their outdoor spaces to make a summer spent at home more enjoyable for their families.
Hydrofloors, The Hidden Pool Feature Homeowners Love
One of the coolest inground pool features these days that has taken social media by storm are Hydrofloors. These incredible movable pool floor systems enable you to achieve the ultimate hidden pool. Hydrofloors were first introduced to the pool industry back in 2007. Since then they have slowly been gaining traction with builders and homeowners alike.
Movable pool floors have been around for decades. If you've ever seen the pool from 'It's Wonderful Life', you'd recall a memorable scene involving a dance floor opening up to a swimming pool. Technology has certainly come a long way since George Bailey took the plunge. These movable floors vertically rise to fill in the pool area with usable space within minutes.
What Are Hydrofloors?
Twinscape Group is the pioneer behind this revolutionary technology that is enabling homeowners to reenvision their pool area as a dual-purpose space. It is now possible to go from an indoor gym to an indoor pool in an instant using Hydrofloors. The movable swimming pool floors can be lowered to varying depths. It can also be elevated to ground level to be utilized as a flat-top surface.
The James Bondesque pool feature isn't just becoming more popular with luxury homeowners. Hydrofloors are also becoming a big hit with aquatic centers. The ability to raise and lower the pool floor makes it possible to hold infant swim classes at 10 am, an adult lap swim at noon, and a swim meet competition at 3pm all in the same pool.
Transforming the pool to different depths happens all by pressing a single button. Hydrofloors also have applications for creating better therapy pools. Slip-resistant, movable pool floor systems can be easily adjusted. This allows swimmers of any physical condition to enter and exit the pool with greater ease. Hydrofloors eliminate the need for slings, hoists, and access ramps.
Movable Pool Floors Are Attracting More Pool Builders
Builders like Paolo Benedetti of Aquatic Technology out of Morgan Hill, CA, have become a big fan of Hydrofloors. They enjoy the ability to do multiple depth floor systems that can accommodate popular finishes (i.e., tile, glass-mosaic, and even marble). That is accompanied by Hydrofloors' enormous load capacity. Hydrofloors surpass a home's conventional floor strength rating of 55 lb/ft when lifted.
Benedetti recently shared one of the most recent projects he collaborated on with Panorama Pool Builders of White Fish, MT. This incredible over the top luxury inground pool exemplifies what can be achieved in the backyard with Hydrofloor movable pool floor systems.
What is also remarkable is that a Hydrofloor pool is a 100% safe pool cover that can convert into a usable patio space within minutes. This provides the versatility to create unique pool environments that are multiuse spaces. That is perhaps the most appealing aspect for pool builders.
How Do Hydrofloors Work?
A series of cables and a pulley system with a water-based hydraulic cylinder comprise much of the technology behind Hydrofloors. Locking pins that automatically slide in the pool shell walls help achieve an incredibly high load capacity (250 kg/m2). Buoyancy packs are installed underneath the structure, which floats the pool floor to the surface. The floor is pulled down with a cable and pulley system with water-based hydraulic cylinder to the desired depth. Water passes slowly enough so that the water percolates above the floor to quickly drain away from a small gap around the perimeter.
Separating The Fantasy of Movable Pool Floors From Reality
There have been plenty of moving pool floor system videos being shared on social media lately. Some of these time-lapse videos are incredibly entertaining to watch. Quite a few of them show pool floors that disappear within seconds. Realistically you're looking at around 8-10 minutes for a complete transformation from patio to pool.
Let's also set realistic expectations about market penetration on these systems. While the videos are becoming popular on social media, and homeowners might be wondering if they can have one of their own; this is still a pool feature reserved for the elite. The movable pool floor system alone can cost hundreds of thousands of dollars; which can be pricey – even in terms of luxury inground pools.
How Much Does a Hydrofloor Pool Cost?
Each square foot of the movable floor system can cost anywhere from $300 to $550. This makes movable pool floors a unique but very expensive pool feature. Construction costs considered, a hidden pool with a Hydrofloor can cost millions, according to Alan Crownover of Paradise Pools and Garden. Crownover is a San Francisco-area pool builder, who's designed at least one Hydrofloor pool so far. He said the starting price for similar projects would run someone about $2 million.
Crownover is working on another exciting Hydrofloor project. This one involves a private yacht that wants to land a helicopter on the roof. He is planning a dual-purpose landing pad/pool. The owner will be able to convert into a swimming pool and back again whenever guests drop in. Truly a unique project that we can't wait to see get off the ground (no pun intended).
Luxury Pool Feature With a High Price Tag
The high cost associated with this particular pool feature puts it out of reach for all but the most affluent homeowners. Real estate agents have reported an uptick of homes with hidden pools hitting the market in recent years. However, this doesn't indicate they've become more affordable yet. Most regular inground pools typically start at around $50,000. The starting price for a Hydrofloor is $230,000. This makes this a unique pool feature that you'll still find in only a finite amount of residential homes.
Twinscape Group is definitely setting the bar in movable pool floors when it comes to finding exciting and innovative new ways to conceal a swimming pool. They are also pushing the envelope with movable benches, pool covers, and submersible walls and bridges.
Inexpensive Hidden Pool Projects
Want a hidden pool but can't afford a Hydrofloor system? You might want to try the DIY approach. You can try and build your own. Gil Klar, an Israeli electrical engineer, spent three months and around $10,000 building his own hidden pool. One that is quite similar to the sliding dance floor shown in "It's a Wonderful Life".
Photo Credits: Twinscape Group
Have you ever thought about going for a spa break? Spas are increasingly becoming popular among a wide range of individuals. Not only do spas offer a wide range of health benefits, but they also add a whole new charm to your backyard space. As a result, pool owners are adding spas to increase the functionality of their pools. One of the best spas you'll ever visit is the Aqua Dome Tirol Therme Längenfeld. Located in the Austrian Alps, this thermal pool provides you with an exceptional vacation experience.
Exceptional views offered by the thermal pool
A breathtaking landscape encompasses this spectacular thermal spa. Also, it has a luxury hotel that offers first-class accommodation services. The landscape consists of vegetation, glaciers, and mountains. Here, you can sit and unwind after a grueling day. This luxurious hotel also offers fine dining for all guests. There is a broad spectrum of the menus provided by the hotel. Moreover, the hotel features enormous domes that contain thermal water.
The Aqua Dome thermal spa is at the heart of a mind-blowing landscape that offers a serene ambiance. If you are looking for a short getaway to unwind and destress, consider visiting this place. Since the temperatures are relatively low in the area, the thermal spa contains heated water that allows you to swim comfortably at any time of the year.
The Talfrische outdoor spa
Another thermal spa in the hotel is the Talfrische outdoor spa. This spa offers exceptional views. The landscape encompassing the spa creates a tranquil ambiance that allows you to get away from the hustle and bustle of everyday life. This spa features three bowl-shaped pools for improved aesthetics. One pool is a brine pool that brings a natural and sea-like effect to the pool. The brine pool has a sound system that enables swimmers to stay entertained even while in the water. The lighting effects of this outdoor spa make it look like a glowing oasis at night. Not to mention, the pool lighting improves swimming visibility at night.
The other pool is a massage pool. Here, you can sit and relax as you enjoy the movement of water across your body. The massage pool is ideal for people suffering from joint and muscle pain since it provides relief. Moreover, the massage pool helps you destress and unwind after a grueling day. The last pool is a jacuzzi pool. The jacuzzi pool is often used for relaxation and entertainment.
Gletscherglühen sauna world
The Aqua dome thermal pool also serves as home to the Gletscherglühen sauna world. This spa is enormous since it measures 2000 square meters. It features a broad spectrum of saunas, whirlpools, and steam baths. The sauna world also holds an ice grotto. The Gletscherglühen sauna world undoubtedly offers incredible views in the area. It significantly improves the aesthetics of the area. Also, the saunas and steam baths in the Gletscherglühen sauna world allow you to relax after a long day.
The Aqua Dome Hotel
The Aqua dome hotel is luxuriously furnished with high-end furniture and equipment. This is to offer tranquility and make the area more inviting. The furnishings in the area are also functional. Note that both indoor and outdoor spaces in the hotel have exceptional furnishing. Other than enjoying breathtaking views while in the pool, you can enjoy the beauty in your hotel room. So, how much does it cost to sleep at the Aqua Dome hotel? According to Trip Advisor, expect to spend approximately $365 per night when you sleep at the Aqua Dome hotel. Needless to say, these prices vary depending on the seasons. During the swimming pool peak season, the prices tend to be higher.
Each room in the hotel has its own balcony
Here, guests are able to enjoy the outdoor views for their own pleasure. Every room offers panoramic views of the landscape and spas. Thus, rest assured that you will enjoy your stay at the hotel to the fullest. Once you pay for a night or two at the hotel, you automatically access the spa. So, you can enjoy the spa at any time of the day.
There are different rooms in the hotel
Some are standard rooms, and others are suits. Usually, suites are larger and have their own fireplace. If you are coming to stay in the hotel with your family, suites are the best. They can accommodate more people. Even so, suits are relatively more expensive compared to alpine rooms. When you are a guest at the hotel, rest assured you will enjoy numerous pampering sessions from the spas and saunas. Ultimately, the best thing about this hotel is that you'll never get bored during your stay. There is a broad spectrum of spa and pool facilities for you and your loved ones. Not to mention, the breathtaking views in this area will blow your mind.
The thermal spa and pools source their water underground. When pumped, the water reaches a temperature of 40 degrees Celsius.
Ultimately
This Aqua Dome thermal pool is undoubtedly a must-visit. Here, you can get away from your busy schedule and relax as you enjoy exceptional views.
Do Pools Make a Home More Sellable? Some Experts Say Yes
Experts consider homes with pools to be of higher value. On average, a swimming pool raises your home value by approximately 7%. In 2019, homes with pools had an extra $16,137 on their selling price. When the global pandemic hit last year, these same homes incorporated an additional $27,000 on their selling price compared to homes without their own private backyard oasis. Thus, pools definitely make a home more sellable, by how much depends on several factors.
Sellers who stay in warmer regions are more likely to obtain higher profits when selling a house with a pool. This is because there is a high demand for houses with swimming pools in areas with high temperatures. A realtor with Remax Gold, Julia Beals, says, "In California, houses with these features cost $50,000 more than houses without swimming pools."
Managing editor for HomeLight, Caroline Feeney, says that the covid-19 pandemic forced most homeowners to revamp their backyard spaces. This is because they spent more time at home and all recreational facilities got closed. She says, "Many homeowners bought baby pools online to keep their kids occupied during summer. Also, homeowners were trying to create a mini-escapade in their backyards following the covid-19 travel restrictions."
Does installing a swimming pool increase your property's value?
In 2020, the global pandemic brought about a surge in demand for pool construction services. Therefore, realtors report that the selling price of homes with pools is likely to go up by a large percentage. Even so, don't expect to recover all your total pool installation costs by selling your house. Constructing a pool is incredibly expensive. You might only recover a certain percentage of your pool construction costs. So, don't sell your house with the hopes of recovering your pool construction costs. As a pool owner, ensure you keep your pool in good condition so that it can attract potential buyers quickly.
Practice all pool maintenance measures
Typically, every prospective buyer gets attracted to clean and well-maintained pools. Once they see that your pool is in good shape, they won't hesitate to make their purchase. Therefore, you should do your very best to keep your swimming pool in good condition. Otherwise, you would turn off potential buyers. Feeney says, "If the customer sees the area as somewhere they can have fun with their families and relax, they won't think twice about buying it. Regular pool maintenance undoubtedly makes your home more marketable."
Clean the entire pool using the right equipment. Use a skimmer net to remove floating debris and a robotic cleaner to remove dirt inside the pool. Additionally, ensure you have the correct pool pH, calcium hardness levels, and chlorine levels in the pool. It would be best to hire a cleaning professional from time to time. You'll only spend approximately $150 to $200 when you hire a cleaning professional. Before winter, close your pool through winterization. Moreover, always examine the swimming pool for cracks among any other signs of damage.
Pool safety is important
As a pool owner, you have to observe various safety regulations issued by the state. Every state has specific guidelines regarding pool safety. For instance, some states require you to fence your pool area and use an automatic pool cover. This way, you prevent your kids from falling into the pool accidentally. There is a broad spectrum of pool fences and covers available in the market. Always choose the one that caters to your requirements. When your pool has all safety features in place, it will attract potential buyers.
Keep your pool deck in good condition
Another way to market your home is to make sure your pool deck is in good condition. The pool deck significantly contributes to the aesthetics of your yard. There is a wide range of materials used to construct pool decks. Some include concrete, wood, and stone. Each of these materials offers distinctive aesthetics. Regardless of the deck material, always ensure your deck is in good shape. Check the pool deck to see whether it has cracks, among other defects. Fix your pool deck problems immediately after you identify them.
Keep the yard clean
Do your best to reduce clutter in your pool area. Ensure your area is free from toys and personal items. Also, sweep your pool area to remove all kinds of dirt and debris. Doing this helps you find a potential buyer quickly. You can also improve the aesthetics of the pool by adding extra water features. Some of the best water features to incorporate include pool lighting, waterfalls, sheer descents, spas, and pergolas. Keep in mind that water features help you increase the value of your pool.
Conclusion
From this post, it is clear to see that pools make a home more sellable. Nonetheless, it would be best if you kept your pool in good condition to attract more prospective buyers.