Shipping Container Pools Are Becoming Popular
Over the years, there has been a broad spectrum of innovations in all industries. But did you know that shipping containers can now be converted into swimming pools? Paul Ratham of Modpools says that shipping containers can now be world-class pool vessels that offer exceptional functionality at a lower price point than traditional inground pools. Aside from transporting cargo across the whole world, builders are repurposing shipping containers to create swimming pools out of them that homeowners love.
Generally, shipping containers often go to waste after several years of use. So, Paul Ratham started utilizing these boxes in a completely different way a few years ago. Ratham began creating swimming pools out of used shipping containers that had traveled all over the United States. Not only that, but his novel approach towards pool construction began to take off and pique the interest of homeowners.
As a result, he was able to meet the increased demand and has created many pools during the global pandemic. Shipping container pools are becoming more popular because they are easy to install and portable, meaning in most cases you can easily transport these pools from one location to another. This appeals to homeowners who want a pool but may not be tied to their forever home yet. Additionally, shipping container pools can accommodate a wide range of water features.
Where did this idea come from? Ratham says, "Pools are undoubtedly excellent sources of entertainment and relaxation. When you have a pool, you can create a mini staycation in your backyard." With this information in mind, Paul thought of converting shipping containers into viable swimming pools. He was already transforming shipping containers into spaces like homes and offices. However, he noticed that he could do even more with shipping containers by repurposing them as functional swimming environments.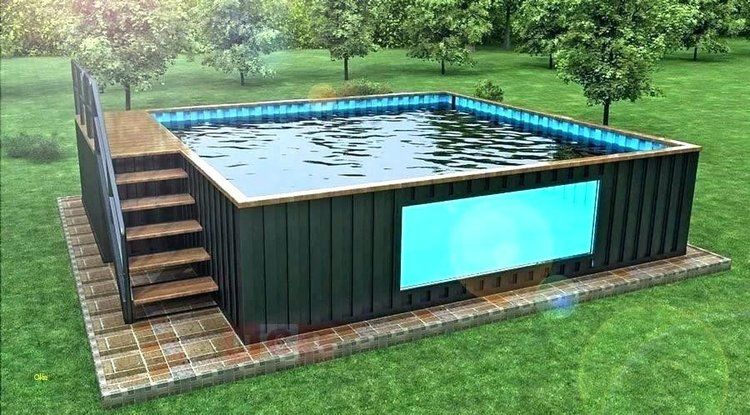 The formation of Modpools
After several years of building and remodeling shipping containers into pools, Paul Ratham formed Modpools. That company is responsible for creating many of the shipping container pools being sold today.
Ratham initially invested in shipping containers that carried different products. He says, "Most containers that reach North America don't go back. This is because North America does not have a lot of commodities to send to China. So, most shipping containers that reach North America end up going to waste. Converting these containers into something functional is, therefore, a good idea."
Tips for creating quality shipping container pools
Today, Ratham also tries his best to purchase shipping containers that have been used only once. Newer containers are often cleaner and dent-free. He does not want people to think that his pool containers are used garbage cans. It can be hard to sell homeowners on the concept that pools can be made using old shipping containers. Even so, more people are now becoming familiar and open to shipping container pools as an alternative to traditional inground pools. So much so, that they are willing to overlook the aesthetics and focus on the functionality these pools offer instead. Ratham, therefore, says that it is much easier to sell shipping container pools at the moment simply because the demand for pools has been so high. With that being said, shipping containers are ideal for homeowners with a limited budget and yard space.
Pros of shipping container pools
Shipping container pools do make outstanding lap pools
They are often more affordable than other swimming pool types
You might not require a gate if the container is above ground
Installation can often be completed within a single day
They are an elegant and stylish alternative to other types of pools
Cons of shipping container pools
They can be just as expensive as an ordinary inground pool when fully customized
The shipping container look is an acquired taste and may not be for everyone
Shipping container pools may only offer one entry & exit point for swimmers
Most shipping container pool systems are not designed for a saltwater system
All shipping container pools are basically the same shape
Manufacturing shipping container pools
Creating shipping container pools are not as complicated as most people think. All you have to do is customize the container. Cut the 20 x8 feet or 40 x8 feet shipping container into your preferred pool size. Then shape it according to your desired layout. Modpools often conduct this process at their warehouse. Luckily, you can always expand the container through welding to create even larger sized pools. Therefore, the shipping container pool does not have to be constructed on your property.
Consequently, you won't have to deal with the noise of pool construction. Instead, you can create an inground, aboveground, or partially aboveground pool using a shipping container. Once the pool is ready, manufacturers transport it to your site for installation. You can customize a shipping container pool to match your requirements. Additionally, you can add water features like hot tubs in the container pools to make your container pool more full featured.
Last year, the global pandemic forced a majority of homeowners to consider revamping their outdoor spaces in lieu of traveling. As a result, there was an increased demand for pool construction services. Shipping container pools are also in high demand for homeowners who want to save some coin. Consequently, manufacturers like Paul Ratham had to buy shipping containers in bulk to deal with this surge in demand.
The typical size Modpool is eight feet wide by twenty feet long and a little more than five feet deep. It also has a clear, acrylic window on one side, which is an appealing and cool design aspect you wouldn't expect to find in a shipping container pool. Customers can choose to install another acrylic glass on the other side which many often opt to do.
Final thoughts
Although the increased demand for pool installation has been hectic for most contractors, Paul Ratham's business has grown tremendously over the past year. He says that Modpools has been responsible for installing 800 pools in North America in the past year. This is because homeowners are remodeling their outdoor spaces to make a summer spent at home more enjoyable for their families.
Cantilevered Pool an Alpine Dream – Hotel Hubertus Pool
Hotel Hubertus -massive cantilevered Sky Pool is a jewel of the Alps
Today we're looking at the incredible cantilevered pool located at the Alpin Panorama Hotel Hubertus – a magnificent resort nestled in the Puster valley in the Alps. The picturesque locale is known as a world destination for hiking, skiing, biking and mountain climbing. Located in Valdaora, at the base of the Kronplatz at an altitude of about 4,400 feet, the hotel offers sweeping views of the Dolomites and the Vedrette di Ries Mountains.
At Pool Magazine we look to highlight inspiring projects that are pushing the boundaries of design and engineering. The cantilevered infinity pool at the Hotel Hubertus is one shining example that has been captivating the imagination of people around the globe.
The designers behind this breathtaking luxury pool design is none other than noa* network of architecture. The award-winning firm with offices in Germany and Italy has been drawing mass attention with its glass-bottom floating pool design.
Approximately 82 feet long and 16 feet wide, the pool was designed to look like a floating rock coming to rest and was built from anthracite-colored stone. Its cleverly concealed edges create the visual impression the pool is floating in space.
The architects took on the challenge of designing the pool as part of an overall renovation project. The pool connects the hotel's new and existing areas, which include 16 enlarged new suites, a new kitchen and restaurant, an alternative entrance lobby, a wine cellar, and a brand new fitness and leisure room with panoramic terraces.
From inside the hotel looking out at the pool area, the water appears to float into space. With a glazed window on the bottom of the pool, swimmers can This sophisticated effect gives one the impression they are floating in an alpine lake suspended somewhere between Heaven and Earth.
The key challenge in the project was to create a link between the existing building and the new design, in order to keep a uniformal and consistent appearance.

ANDREAS PROFANTER – *noa – network of architecture
Rising 40 feet from the ground sits the jewel in the crown of the Hubertus, the massive cantilevered pool. Supported by massive native larch tree trunk facades, the aesthetics create a homogeneous appearance following the natural topography of the area.
Suspended pools such as the Hubertus Pools have been capturing the public's imagination as of late. Photos of this incredible cantilevered pool structure began circulating on social media as far back as 2017. Over five years later, the interest in this uniquely engineered pool still has builders talking.
Alpin Panorama Hotel Hubertus
Address: Via Furcia, 5, 39030 Sorafurcia BZ, Italy
Phone: +39 0474 592104
The Swimming Pool From It's a Wonderful Life
Recently while watching It's a Wonderful Life, I noticed the swimming pool scene where George Bailey (Jimmy Stewart) and Mary Hatch (Donna Reed) are at the school dance. It's a defining scene where a retractable basketball court opens up to reveal a hidden swimming pool beneath it. As George & Mary are dancing they don't notice the floor begin to open. The cheering crowds spur them on even further, as they think everyone is cheering their dancing they fail to see they are dancing right over the edge and plunge into the pool.
The Pool Scene from It's a Wonderful Life
Many of the other people at the dance dive right on in and an impromptu pool party ensues. It's a touching scene in a must see movie that should be at the top of everyones holiday movie list. Many people believe that the swimming pool wasn't real. Frank Capra the director of the film had the entire set of the town of Bedford Falls created on an 89 acre back lot at RKO Pictures in Culver City.
The set was actually inspired from the real life town of Seneca Falls in New York. Film buffs suggested that the pool itself was also a prop. As it turns out, according to Snopes.com who did the fact checking for us, the pool has been identified and is real. It's known as the Swim Gym and is a Beverly Hills landmark. The pool was built by the WPA historical pool contractors in their own right, and designed by Stiles O. Clements in 1939.
Historical Land Mark Swimming Pool Has Been in Many Movies
The retractable pool belongs to Beverly Hills High School and was actually used in the filming of the movie. What's even more interesting is that the pool is still around today! The pool itself is 25 yards long and is still used in swimming competitions. With the turn of a key the inground swimming pool the retractable pool cover converts back to a basketball court / dance floor.
It's a wonderful life (east coast feed) about to show the pool under the basketball court that still is there at my high school. #Beverly

— Adam Wohl (@adamwohl) December 25, 2012
In Dallas For The PSP Deck Expo? Visit Thanks-Giving Square
We're in Dallas for the 2021 International Pool Spa Patio Expo. It's still a few days until the show actually starts, but there is so much to do in the city that you might just want to come a day or two early so that you can get the full experience. A stroll through the downtown area is a must if you'll be in town for the Expo this week. After all, this is a city steeped in rich architecture. As frequent visitors, it would be remiss of us to visit without highlighting one of the best water features in the city – Thanks-giving Square.
In Town for the PSP Deck Expo? Visit The Incredible Water Feature at Thanks-Giving Square
The scenic and soothing water features are the centerpiece of the park and are definitely one of those iconic tourist attractions you really need to see for yourself. Located less than a mile from the actual Convention Center at the Omni Hotel in Dallas, it's a definite must-see for anyone visiting the city. A serene and tranquil oasis in the center of the hustle and bustle of the Dallas downtown area, Thanks-giving Square is a place for meditation and reflection.
The soothing sounds of moving water permeate the square, drowning out the noise of daily life in the 9th largest city in the United States. First planned in 1964 after the Kennedy assassination and completed in 1976, this beautiful spiritual center has brought together people of different faiths, cultures, and traditions for over 45 years.
The Great Fountain's flowing waters provide a tranquil ambiance ideal for reflection and contemplation. Visitors from all over the world, remark on the exceptionally planned public space.
The bell tower, which is supplemented by a nearby mosaic of Norman Rockwell's iconic "Golden Rule" picture, punctuates the space to the west.
Perhaps the most remarkable feature of the park is the chapel which features a curving white edifice symbolizing the spiral of life and the human spirit. Visitors remark at the exceptional beauty of The "Glory Window," a beautiful stained glass masterwork, located on the upper level.
VISITOR HOURS
Garden: Open every day 7:00 a.m. – 11:00 p.m.
Chapel of Thanks-Giving: Open every day: 9:00 a.m. – 4:00 p.m.
Hall of Thanks-Giving: Open for special events or by appointment only
Address: 1627 Pacific Ave, Dallas, TX 75201