Shipping Container Pools Are Becoming Popular
Over the years, there has been a broad spectrum of innovations in all industries. But did you know that shipping containers can now be converted into swimming pools? Paul Ratham of Modpools says that shipping containers can now be world-class pool vessels that offer exceptional functionality at a lower price point than traditional inground pools. Aside from transporting cargo across the whole world, builders are repurposing shipping containers to create swimming pools out of them that homeowners love.
Generally, shipping containers often go to waste after several years of use. So, Paul Ratham started utilizing these boxes in a completely different way a few years ago. Ratham began creating swimming pools out of used shipping containers that had traveled all over the United States. Not only that, but his novel approach towards pool construction began to take off and pique the interest of homeowners.
As a result, he was able to meet the increased demand and has created many pools during the global pandemic. Shipping container pools are becoming more popular because they are easy to install and portable, meaning in most cases you can easily transport these pools from one location to another. This appeals to homeowners who want a pool but may not be tied to their forever home yet. Additionally, shipping container pools can accommodate a wide range of water features.
Where did this idea come from? Ratham says, "Pools are undoubtedly excellent sources of entertainment and relaxation. When you have a pool, you can create a mini staycation in your backyard." With this information in mind, Paul thought of converting shipping containers into viable swimming pools. He was already transforming shipping containers into spaces like homes and offices. However, he noticed that he could do even more with shipping containers by repurposing them as functional swimming environments.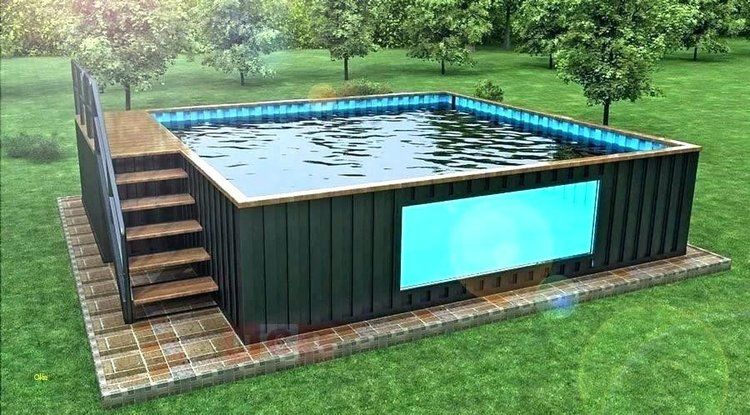 The formation of Modpools
After several years of building and remodeling shipping containers into pools, Paul Ratham formed Modpools. That company is responsible for creating many of the shipping container pools being sold today.
Ratham initially invested in shipping containers that carried different products. He says, "Most containers that reach North America don't go back. This is because North America does not have a lot of commodities to send to China. So, most shipping containers that reach North America end up going to waste. Converting these containers into something functional is, therefore, a good idea."
Tips for creating quality shipping container pools
Today, Ratham also tries his best to purchase shipping containers that have been used only once. Newer containers are often cleaner and dent-free. He does not want people to think that his pool containers are used garbage cans. It can be hard to sell homeowners on the concept that pools can be made using old shipping containers. Even so, more people are now becoming familiar and open to shipping container pools as an alternative to traditional inground pools. So much so, that they are willing to overlook the aesthetics and focus on the functionality these pools offer instead. Ratham, therefore, says that it is much easier to sell shipping container pools at the moment simply because the demand for pools has been so high. With that being said, shipping containers are ideal for homeowners with a limited budget and yard space.
Pros of shipping container pools
Shipping container pools do make outstanding lap pools
They are often more affordable than other swimming pool types
You might not require a gate if the container is above ground
Installation can often be completed within a single day
They are an elegant and stylish alternative to other types of pools
Cons of shipping container pools
They can be just as expensive as an ordinary inground pool when fully customized
The shipping container look is an acquired taste and may not be for everyone
Shipping container pools may only offer one entry & exit point for swimmers
Most shipping container pool systems are not designed for a saltwater system
All shipping container pools are basically the same shape
Manufacturing shipping container pools
Creating shipping container pools are not as complicated as most people think. All you have to do is customize the container. Cut the 20 x8 feet or 40 x8 feet shipping container into your preferred pool size. Then shape it according to your desired layout. Modpools often conduct this process at their warehouse. Luckily, you can always expand the container through welding to create even larger sized pools. Therefore, the shipping container pool does not have to be constructed on your property.
Consequently, you won't have to deal with the noise of pool construction. Instead, you can create an inground, aboveground, or partially aboveground pool using a shipping container. Once the pool is ready, manufacturers transport it to your site for installation. You can customize a shipping container pool to match your requirements. Additionally, you can add water features like hot tubs in the container pools to make your container pool more full featured.
Last year, the global pandemic forced a majority of homeowners to consider revamping their outdoor spaces in lieu of traveling. As a result, there was an increased demand for pool construction services. Shipping container pools are also in high demand for homeowners who want to save some coin. Consequently, manufacturers like Paul Ratham had to buy shipping containers in bulk to deal with this surge in demand.
The typical size Modpool is eight feet wide by twenty feet long and a little more than five feet deep. It also has a clear, acrylic window on one side, which is an appealing and cool design aspect you wouldn't expect to find in a shipping container pool. Customers can choose to install another acrylic glass on the other side which many often opt to do.
Final thoughts
Although the increased demand for pool installation has been hectic for most contractors, Paul Ratham's business has grown tremendously over the past year. He says that Modpools has been responsible for installing 800 pools in North America in the past year. This is because homeowners are remodeling their outdoor spaces to make a summer spent at home more enjoyable for their families.
One on One With Elite Pool Designer – Danny Wang
When it comes to the world of pool and outdoor living design, there are few who have come close to the success and recognition that Danny Wang has achieved. Based in Orange County, CA, his firm DW Design & Build has established a reputation as one of the leading design firms. Racking up award after award for his over-the-top luxury pool and backyard designs, Wang's ability to help homeowners conceptualize their ideal outdoor living environment is unprecedented.
With an uncanny ability to envision complete outdoor living design concepts on-the-fly, Danny Wang is almost a household name in the pool design world. He seems to possess a rare ability that gives him near-instant insight to look at a home and see the potential for a complete redesign in his head before ever putting pen to paper.
"I'm not freestyling it but it's almost like when I go walking into someone's backyard an image of a project literally pops up in my head and I see it," said Wang, "I don't know how else to describe it. Usually, by the time I've walked through the yard and talked to the homeowner, the designs are done within 5 to 15 minutes."
"It's probably based on all my experience. You build so many pools, that you kind of know what goes where and what can and can't go on in the design," said Wang.
"Lately, when I'm approached for a design the homeowner just lets me do my thing," said Wang, who admits he's looking to work with clients who allow him free reign to create them an over-the-top design for their backyard. "That's kind of how we screen our clients to know if they're going to be very involved in the process. I mean, that's okay, but more and more what we like are folks who know they are hiring me to build them an award-winning pool and know that I'll get it done right," he explained.
"I don't think every designer could say that confidently. We're building a very complex pool, so there are only a few people that can execute at that level. This is why a lot of times we build our own projects," said Wang.
"Of course, it's not my house, so what we have to do is still take into account what they want and need. We take those elements from discovery and incorporate those into a design around that," said Wang.
Wang says he draws inspiration from what other folks like Paul McClean are doing in the field of architecture. "I think pushing that boundary is important, seeing what's possible both technologically and artistically. What have people not seen before? I think that part really motivates me to be creative and innovative in the design and build aspect. That, makes it more fulfilling and kind of drives me," said Wang.
"I get a lot of inspiration from just looking at different places. I would look up resorts in Bali, Mexico, and other various parts of the world and try to understand their different design language," explained Wang, "looking at things globally and saying 'well what are these people doing in different parts of the world?' and then taking inspiration from that and combining elments into what we're designing for our clients."
Things didn't always come so easy for Wang, who let us know that the moment he started to become known, he made a typical mistake many design firms make. "I think in 2017, at that time, I had a lot of business. I made a mistake, as a lot of people do, and took on way more than I could chew. I think at that time, I had about 50 projects backlogged, and I was doing about 30 projects at once. It was brutal, and we were losing money left and right," said Wang.
In order to regain some sanity, Wang said that he was forced to take a break to complete the projects he had in backlog. "I couldn't build for like two years because we just had so many in backlog," explained Wang, "I did have time to do design, so what I ended up doing was I was doing my projects during the day, and at night, I would go home and design for other people."
"That was roughly the same time that I started doing social media. People see would see our designs on social media and it just kind of took off from there," said Wang.
Wang's visionary designs are clearly not only appreciated by the pool industry but by the general public as well. Having amassed an enormous social media following, he has plans to leverage his brand in new and exciting ways.
"Our content is entertaining and also educating people. There's a lot of stuff we can learn now through social media, where we have a worldwide audience. I didn't know that there were so many different types of building techniques and different elements used throughout the rest of the world. So that's really eye-opening, and I learned a lot. I also see other people learning a lot from the content that I'm producing and that's very interesting to me," said Wang.
Often eager to show off the latest design trends, we asked Wang what's trending with his social media audience. "I think bigger and crazier water features. We're using a lot more lighting versus just the traditional on-and-off people are used to. We're doing smart lighting where we can control the water feature lighting and that creates a whole new element of the design. DMX lighting where the water features change color with the music. LED's can have patterns and the pool almost becomes like a musical stage."
By the millions of likes and shares his content is getting, it's clear that folks are excited about what Wang is doing in the backyard. "You just don't see these types of things happening in your ordinary backyard," said Wang.
It's clear Wang's portfolio of over-the-top luxury resort-style swimming pools continues to grow almost as quickly as his social media following. Wang said he has every intention of turning the brand into a household name. "We're kind of getting into product development. Right now we're talking with tile and fire pit manufacturers. We're also going to start developing our own indoor and outdoor product lines. So lots of exciting things going on," said Wang.
Listen to our entire conversation with elite pool designer Danny Wang on the Pool Magazine podcast.
An In-Depth Look at Stadium Swim with Bradford Products
Stadium Swim is an over-the-top luxury swimming pool sportsbook experience like no other.
Bradford Products has long been a manufacturer of stainless steel vessels. With a pedigree for producing world-class resort-style swimming pools and water features, the firm has long been the go-to source when it comes to high-end projects. The fact should come as no surprise that Bradford Products was firm behind the world-famous Stadium Swim, a massive swimming pool sports book located at the Circa Resort & Casino in Las Vegas.
Recently, we had the opportunity to discuss the pool at greater length with Mike Sage, VP of Sales & Marketing for Bradford Products who gave us some insight into why Bradford was tapped for this particular project.
Why Bradford Products Was Chosen For The Stadium Swim Project
"The backbone of our company, and certainly the largest part of our business, is the Aquatic vertical," said Sage, "that is what encompasses primarily all of the custom and commercial elevated stainless steel pool and spas. I think that's probably what we're most well-known for. That goes for anything that goes on top of an apartment building or a Las Vegas pool deck or any number of our other custom applications for swimming pools and spas around the world."
With over 10,000 pool and spa installations worldwide, Sage said the project planners behind Circa didn't have to look far to find Bradford Products. The firm has been responsible for many well-known resort swimming pools all over the world. In fact, they were involved in the collaboration of another high-end pool project in London that made headlines across the globe, (Sky Pool).
"We've got a lot of experience in Las Vegas working with most of the major resorts and casinos there having installed just a tremendous number of pools and decks," said Sage. "For most of the major players out there, Circa was unique for a couple of different reasons. It's located in the old downtown part of Las Vegas. It's a much tighter environment down there, which in and of itself created some unique challenges in constructing that particular casino. Certainly, the pool presented some unique challenges."
"When it came down to it, there really was no other choice in their mind but to work with us," said Sage. For project planners, it made sense to choose Bradford Products. The Bellagio, Caesars Palace, Golden Nugget, Wynn, Encore, and Palms Casino are only a few of the commercial clients they have had the fortune to work with. Consequently, the 40-year-old firm's reputation proceeds them in the market when it comes to resort swimming pools in Las Vegas.
"Ultimately why Bradford was chosen as the pool supplier there. I would say first and foremost, by far the primary reason was because of the actual orientation of the pool deck. Stadium Swim sits directly above the gaming floor of the casino. And that is the heart and soul and money generator for that casino," explained Sage, "there had to be an absolute highest level and sense of security that these pools were not going to leak or eventually leak over time. So Bradford was chosen because of our ability to deliver a fully welded, fully guaranteed watertight, stainless steel pool that would be placed directly over the most critical part of the casino."
"They needed the ability to get these pools up to the pool deck in some pretty tight environments, "said Sage, "they also needed an organization that had the ability to maximize the full section sizes for transportation including craning and rigging, but still doing it in a manner that was conducive to staying on construction schedules and fitting into some pretty tight spaces."
Stadium Swim, a Unique Pool Experience Like No Other
While the project was a monumental undertaking, it's all in a day's work said Sage, who claims to be eager to tackle the next huge Las Vegas project that comes along. This project is just another feather in the cap for the firm as they continue to dominate when it comes to Las Vegas commercial work. The end results of the Stadium Swim clearly speak for themselves.
"It truly is a really unique design. There are six pools and they are tiered. So the closer pools are set at the lower elevation, and then the further away that you get from the television screens, the higher up the pools go. So it is truly a stadium seating experience and layout," explained Sage.
"It's also the first of its kind in that the pool deck also doubles as a sports book," explained Sage, "there's a massive wall of TVs that are broadcasting any number of sporting events. The pools and spas on the pool deck basically act as the seating for watching the action. I can tell you, it's quite comfortable having been on the deck in the middle of August in Las Vegas. There's no better place to sit than in Stadium Swim and enjoy the big game. That's certainly what captures everybody's attention, are the massive screens."
We're certainly intrigued by the project and it's no wonder why Stadium Swim is rated #1 on our list of the Best Pools in Las Vegas. We'll keep you updated with more great content about Stadium Swim when we visit it during our trip to the International Pool Spa Patio Expo in November.
Learn more about the history of Bradford Products, their involvement with the Sky Pool and Stadium Swim on the Pool Magazine podcast.
Photo Credits: Circa Resort & Casino
Featured Photo Credit: Ryan Gobuty
Going Above & Beyond For Pool Customers
Scott Payne knows a few things about making brand ambassadors out of his pool customers. As one of the leading pool builders in Pennsylvania, he says he considers it his personal priority to make sure that his customers are happy with the end product.
His company Scott Payne Custom Pools is a local fixture in Montgomeryville which is located roughly 40 minutes between Allentown and Philadelphia as the crow flies. Word-of-mouth referrals are important to the builder who says that when it comes to the backyard, his clients are looking for a firm that does it all.
Recalibrating For Success
"Over my career, I saw the disconnect with some of the companies I worked for in the industry. We set up the model of Scott Payne Custom Pools to be different. When you're expecting a client who is spending a lot of money with you to GC their own project, that never ends well. So we vertically aligned with carpenters, landscapers, and hardscapers. We created a very good sub-base," said Payne, "now most of that work is in-house for us. We employ Scott Payne Outdoors as our sister company and have four full-time carpenters in that company. We have landscape, hardscape and fencing in-house, with a landscape architect on staff. There's a benefit to it, and the customers appreciate it. They want to write one check to one person," said Payne.
Being a One-Stop Shop
Being that all-in-one solution for the homeowner means that quite often, Payne is handling every aspect of the backyard renovation. This goes for everything from the swimming pool, to the hardscaping, to the landscaping, to all of the carpentry that goes into building the various outdoor amenities his clients are looking for. "When clients call, they ask, 'You do everything, right? Yes, ma'am. Good, that's what we want.' and it just reinforces the decision for them," said Payne.
Payne said that being that one-stop shop is what his pool customers are looking for nine times out of ten. "I have a silly rule, and that is if someone asked me more than three times for something, I explore it just to see what it would take to become fluent in it," said Payne, "for example, we do sports courts. Now we're one of the top distributors on the East Coast for Versa Court. We do X Grass for putting greens. Now we do Danver outdoor door cabinetry. There's just such a benefit to being that person and having all that in our back pocket. We're a Generac dealer and do generators. Why? People ask for them or they had bad experiences with their existing contractor. They complained about it. So we got licensed. We'll do 50 to 60 generators this year. It makes sense. We're already there. We have an electrician there, and we have a gas guy there."
On Educating Himself
For Payne, the path to becoming a top pool builder would mean educating himself on what he'd need to learn to make a difference in his own local market. That meant taking the time to take classes that would make him a better builder. "I made a promise when I started the company to forget everything I thought I knew," said Payne, "I was taught things when I worked for a national builder who was very high volume. Everybody had the same sentiment and that was how it was always done. Their process never factored in if it was right or wrong or justified."
"I developed a relationship with Kevin Ruddy from Omega Structures. And at the time he was entrenched in Genesis with Skip Phillips and Brian Van Bower. We had this amazing friendship and he kept telling me to come take a class," explained Payne.
"I just thought it was such an oxymoron because everything that this company stood for was not what Genesis stood for. There was just no sense in doing it their way because it was going to benefit me, but it was never going to trickle down to my customer. Literally, I think the day that I started my company, I called Kevin Ruddy and I said, hey, I'm ready," said Payne.
"He connected me with the office at Genesis. The first class I took was in October of 2015 in Baltimore, Maryland. It was a pool studio class at a Master Pools Guild event. So it's a very nice hotel and I didn't have a laptop. I did my pool studio on a desktop. I literally dragged my CPU down there with my monitor, my keyboard and my mouse. And I walked into class the first day and it just brought looks and laughter, but I set it up on a table where everybody set their laptops up, and that was it. I was hooked. And I'm very proud to say that I completed my SWD. 150 hours of education all over the country inside of two years," explained Payne.
On Educating Pool Customers
Payne said that getting that education was key for him simply because building pools in Pennsylvania can be difficult at times. That education often comes into play when it comes time to educate the customer about what is involved with building a pool. "I think the consistency of state, county, and township regulations do not exist in Pennsylvania. It's a state where every township has its own set of rules. We build in probably 40 townships in a 75 miles square area. Each has different rules and regulations. I have a full-time person where all they do is handle permits. They expedite engineering, download and fill forms out. It's all they do all day."
Other than the permitting concerns are the restrictions that come with building an inground swimming pool. "Stormwater management has become very prevalent in the past ten years. In almost every township it could cost the customer an additional $5,000 to $15,000, depending on how big the devices are," said Payne.
While the pandemic spurred a tremendous increase in outdoor living improvements, rising costs are also something Payne said he has to frequently contend with. "When it comes to price increases, there's a sadness to it. I have to be honest, we had a base price pool that we sold all day, every day. Pre-Covid that base pool was $59,000. The base price of that pool today is $84,000. It's at the identical margin and we're not making a penny more on that pool," said Payne, who said it's his unfortunate duty to break the news about what pools cost these days.
It's also incumbent upon him to educate consumers about the pool-building process. "The process is horrible. It's like a hip replacement," explained Payne, "the client says, 'I don't want to go to PT, I don't want to be in a hospital, but I want to dance.' So I'm going to come in, I'm going to tear your yard up for six weeks, six months, hopefully not six years, right? But you're going to have that first party and you're going to remember Scott Payne Custom Pools. That's why I do this," said Payne.
Making every customer happy is the goal, even when things go awry, said Payne. "I think I was in business about two years and I was called out on a job for a woman named Rachel. She gave me her budget and her wish list. The number she threw out was not going to get this done. I politely start to excuse myself and say, listen, you're probably more of a vinyl pool client than a gunite pool construction. She gets upset and I listen to her. She says, 'I went through this hard divorce, and want to build a swimming pool for my kids, you're going to be the builder.", said Payne.
"I pictured my mom with my sister and me, struggling. So I said, okay, you know what? That budget, can you stretch it? And she said, 'Yeah, I can stretch it.' And I said, okay, 'I'm going to bend. You stretch, I bend and we're going to do this together,'" said Payne.
The project, which was one of Payne's first, had its inevitable hiccups. One Payne counts as a costly lesson in doing the right thing when it counts. A few weeks after starting construction of the pool, Payne would hear back from his customer with an urgent concern. "I think it has something to do with the pool she said," explained Payne, "the toilets are all backed up and I think you hit the sewer line. I walk through her backyard, and I walk through the neighbor's yard, and I walk another yard over and guess what I find? A sewer line that goes right through the middle of the pool. The sewer line is leaving the basement at about seven feet deep. It's under the pool. My excavator more than likely nicked it. Gunite comes in and shoots over it and concrete just seeped into the pipe," said Payne.
"There's a Marriott around the corner. I get them a room, and call my excavator," said Payne, "I said, 'can you do me a favor and bring the mini X and meet me at that job? He and I, over the next five or six hours dig down the front side of this pool to find the pipe. Sure enough, it's broke."
"We find the break. Now I have to make a decision, do I fix it or do I move it?", said Payne, "The pool is parked on top of this pipe. I do the right thing. We dig all the way around the deep end of the pool and demo the equipment that was already set. We connect it, if you can imagine, like a question mark to the other side to the lateral going three yards down. We dig the hole, plumb it, put in cleanouts and get it inspected and backfilled. We reset the equipment, which is now junk. We redo all the plumbing, paid for that twice. We tiled, coped, and put the deck on the pool while still completing it in 28 days. It cost me $8,500 for that mistake but that story sticks out to me as a win, as setting the expectation at that point that we're going to do things the right way, because it's not about money. It's about integrity."