Basecrete and Pools Go Hand in Hand – Danilo Bonazza
Danilo Bonazza explains why Basecrete and pools go hand in hand.
We caught up with Danilo Bonazza world famous mosaic tile artist on one of his latest projects. He was there on site with the President of Basecrete, Vito Mariano – one of the leading experts in concrete engineering and cement technology. Danilo and Vito have known each other for years, as Basecrete often comes into play on many of the pool remodeling projects Danilo has worked on.
Danilo is a huge proponent of using Basecrete's products. While he was working on a recent project, we noticed that he was using Basecrete Intercept. Danilo stopped to give a demonstration on the application of the product. We asked him why Basecrete is so vital to his preparation process and why this product is so instrumental in helping him achieve a monolithic end result.
Basecrete makes the ideal waterproofing barrier. The colloidal silicate in combination with their fibermesh system helps makes the structure even stronger as one whole solid piece.

Danilo Bonazza – Art & Mosaics
What is Basecrete?
To the layman without a finer understanding of Basecrete and Colloidal Silica, (SiO2) it is a densifier. Typically, Danilo applies it in a liquid form as a spray to cement / concerete structures. Its purpose is to densify the molecules of the cement based material. In fact it reacts with the useless calcium hydroxide (contained in the cement of the gunite or shotcrete pool shell) and chemically alters it into useful CSH.
The material is intermingled into the hardened cement paste. A chemical reaction occurs which creates additional paste inside the pores of the existing structure. The paste gets denser becoming almost like a gel. This makes it harder and much less porous. Consequently, this gives the pool shell an extra barrier to humidity and water. It is for this reason above all others that Danilo insists on incorporating Basecrete Intercept.
Why is Basecrete so often used in Inground Pools?
To better understand why Basecrete Intercept is becoming so popular in the industry, we spoke with President – Vito Mariano more about the product. He explained the important role that Basecrete is playing in pool construction today.
Vito, who first got his start in the concrete industry in the late 80's, has numerous patents to his credit. He's known as one of the foremost experts in concrete engineering and manufacturing. His company Basecrete's products have been involved in the construction of well over 90,000 inground pools. Basecrete, although well known in the construction trades – is however still largely unknown to consumers – namely homeowners. We asked Vito to initiate those without a prior knowledge of Basecrete as to what his product is truly all about.
Basecrete itself is known throughout the industry as a high performance, flexible waterproofing membrane and bond coating. The proprietary blend of polymers and additives provide unmatched strength and superior adhesion.
"Basecretes flexibility however, allows it to absorb movement from the underlying concrete structure. Pool contractors find it the ideal solution for waterproofing. Particularly for the products ability to protect and repair concrete structures. Already incredibly popular in the pool industry, you'll find Basecrete applied in pool shells, spas, and fountains." continued Mariano.
Why Pool Contractors Swear by Basecrete
Danilo Bonazza, who is one of the leading mosaic tile artists today, swears by Basecrete and summarized why. "I love the product because it preserves the integrity of the cement structure. Over time humidity and water can penetrate and cause damage. Basecrete provides extra strength that prevents this from occuring". Danilo has become a champion for the product and brand ambassador of sorts. He explained that it goes far beyond the guarantee that comes on the label. "The quality is not only in the product," said Danilo "it is in the people that are supporting it."
Vito Mariano couldn't agree more. His firm Basecrete now consults all over the world. "We're providing training and certifications in the application of our product. We're supporting the industry and have trainers in the United States, Canada, Italy, France, Africa, Australia, and are committed to growing and expanding that."
Key Take Away Advantages of Basecrete
High performance: PSI, Adhesion, Tensile Strength, Shear Bond and Flexibility
Easy Application: Roll It, Trowel It, Spray It, Squeegee It
Impact Strength: 19 LB
Compressive Strength: 7050 PSI
Tensile Strength: 732 PSI
Flexular Strength: 2380 PSI
What Basecrete Does
Basecrete is a waterproofing bondcoat / underlayment / micro topping. Primarily, it is used in applications where a solid and durable waterproof barrier is needed. Adhesive to nearly all surfaces, it is highly resistant to most chemicals and corrosive agents. Basecrete is able to withstand high degrees of movement while still maintaining its structural integrity. The product essentially makes pools waterproof and creates a bond for the pool's final decorative finish of your choice, such as plaster or tiles.
It is interesting to note that Basecrete acts as an antifracture membrane. Use it in conjunction with fibermesh to transition areas and pipe penetrations to create truly monolothic structures. For more information about Basecrete watch the Ask The Masters Podcast or visit them on the web: https://basecreteusa.com
Basecrete Announces Distribution of Litokol Products
Basecrete Technologies, a leading provider of waterproofing solutions, has announced that it has now become a master distributor for Litokol, a renowned manufacturer of high-performance construction materials. This partnership is expected to leverage the market penetration of Basecrete's products while providing Litokol with greater market access and exposure.
With over 25 years in the industry, Basecrete Technologies has established a strong reputation in the construction industry as a provider of innovative, high-quality waterproofing solutions. Its flagship product, Basecrete, is a unique waterproofing membrane that has gained widespread adoption among pool contractors worldwide and accounts for roughly 70% of all pools being waterproofed in the industry, according to Vito Mariano, President of Basecrete Technologies.
"We've been experimenting with Litokol in Europe for a couple of years now, and we're excited to announce that we're now officially a distributor for their products. We believe that by distributing Litokol, we can provide our contractors and builders with a distinct advantage in the industry," said Vito Mariano.
Litokol, based in Rubiera, Italy, has been developing and producing high-quality products for over 55 years. Their product line includes adhesives, grouts, sealants, and waterproofing materials that are renowned for their durability and performance. With a strong focus on research and development, Litokol is constantly innovating and improving its products to meet the changing needs of the pool construction industry.
"This is an extremely exciting deal for Basecrete," says owner Vito Mariano. "Litokol is world renowned as the finest and most innovative producer of tile and grout products. Being able to offer our distributors and customers these add-on necessities allows us to provide a complete system for the tile industry."
Mariano believes that Litokol's product line is a perfect fit for Basecrete. "Litokol's materials are known for their high performance and durability, which aligns perfectly with our philosophy of providing our customers with the best possible products on the market. We're confident that this will help us take both our brands to the next level."
This new distribution partnership between Basecrete and Litokol is expected to benefit both companies by expanding their market reach and offering customers a wider range of high-quality construction chemicals. As Mariano put it, "We're excited to be working with Litokol, and we're looking forward to the opportunities this will bring and are thrilled that we can provide our customers with the best possible solutions for their construction needs."
Listen to our entire conversation with Vito Mariano on the Pool Magazine podcast.
Polaris Celebrates 50th Anniversary
Polaris celebrates 50 years of pool cleaner innovation.
Polaris is celebrating its 50th anniversary this year. The brand has been a pioneer in the pool cleaner industry since its inception. Over its 50 years of existence, Polaris has established itself as a household name, providing reliable and efficient cleaning solutions to pool owners worldwide.
To mark this milestone, we spoke with Greg Howard, the former CEO and President of Polaris Pool Systems (1986-2004), and Skye Svenningsen Director of Product Marketing for Fluidra North America. Both shared some insights about the brand's history and discussed the key factors that have contributed to its success. During our discussion, we delved into the history behind Polaris and talked about some of the key milestones that have helped make Polaris a trusted name in pool cleaners.
Today, Greg Howard is the President of Carecraft, a leading buying group for the pool industry. He still has fond memories of his Polaris days and shared the origin of how the brand first got its start.
"There were two people who invented the original Polaris, Mel Henkin and Jordan Laby. One was a dentist and one was an anesthesiologist. For the initial prototype, the two of them took Coke cans and rubber bands and fashioned them into a little car that would walk around on the bottom of a pool and it had a bag on the top that kind of looked like a chef's hat," explained Howard.
Polaris made its first initial debut at the 1973 National Swimming Pool Convention in Anaheim, California. The product immediately captured the interest of the pool industry and would quickly find itself in competition with the Arneson Pool Sweep which had a predominant share of that nascent market at the time.
"The initial idea was that it was the first pool cleaner that could vacuum and sweep. The Arneson product was just hoses in a pool. It stirred up the water, and you still had to lift a basket out to empty the debris. Ours was the first product that actually vacuumed and swept, hence the name Polaris Vac-Sweep. It took a team of engineers two years to take those Coke cans and turn it into a working pool cleaner," said Howard.
Howard said he still remembers the days going head to head with the Arneson Pool Sweep who at the time had golf legend Arnold Palmer as their spokesman. Not to be undone, Polaris would recruit bathing beauty Suzanne Somers, star of the hit sitcom Three's Company, as their spokesperson.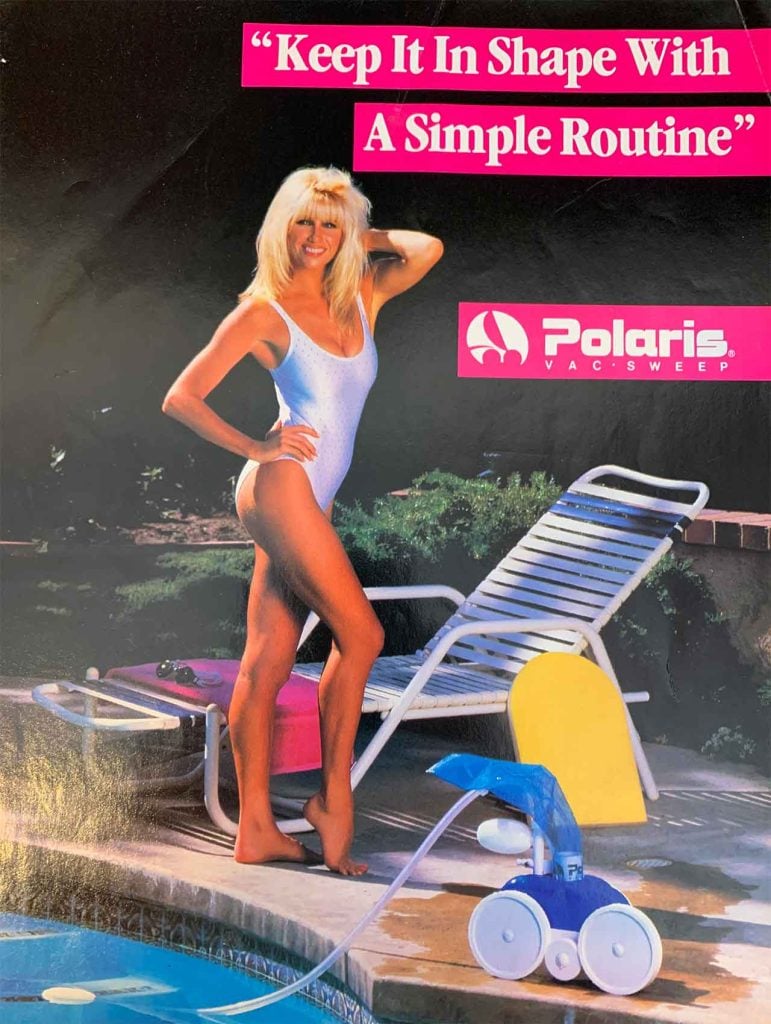 "She was on all of our packaging, and she was in our ads," said Howard, "she also came on our incentive trips with us. She would sit by the pool and sign autographs and talk to the customers. Suzanne Somers was a big part of our marketing," explained Howard.
Back in the 80's, the Polaris 180 would become the defining product the brand would eventually become known for. "For the first ten or 15 years of the company's life, it was the only product that we had," explained Howard, "We literally built an entire company around a single product until there were additional ones brought on later."
Polaris, was acquired by Zodiac Pool Systems in 2005 which would later merge with Fluidra. "Currently the Polaris brand has dozens of pool cleaners in every category. They have suction cleaners, pressure cleaners, electric cleaners, and now cordless cleaners. They've really expanded the line. But yeah, we started with one product, and it took us quite a while to add a second, a third, and a fourth."
Today, folks like Skye Svenningsen look at the Polaris brand with a mix of nostalgia and optimism for the future that lies ahead. "There's a whole lot behind us that has really led to Polaris as a brand being known in our industry the way that it is today," said Svenningsen, "after 50 years, the spirit of our company, the innovation, passion, and drive to make something new and great for our users is still at the core of what we do every day."
"It all started with the 180, which of course was the main product and then the Polaris 280 Vac-Sweep, which remains as a product that people still rely on today. Technology and things may have changed, but we created a product that truly has stood the test of time. I'm really proud that some of the innovations that we made way back then still are relevant today."
"In 2017, we introduced the Polaris QUATTRO™ Sport into the industry, which was a new way to look at pressure cleaning with dual filtration canisters. We're not sitting on our laurels around here waiting. We know that consumers are looking for the next big thing and we're going to bring it," said Svenningsen.
"Consumers today expect most of their new products to have an app and give them some information about their cleaner or their product," explained Svenningsen, "with the iAquaLink® control in some of our robotic products, you're able to set a cleaning cycle, start it from work or while you're on the road, and ensure that your pool is clean by the time that you get home. We're able to do a lot of things that we weren't able to do historically."
Today the Polaris brand is synonymous with the latest technological innovations in pool cleaners. "We've absolutely evolved and brought new products to the market, "said Svenningsen, "the ALPHA™ iQ platform and our EPIC™ platforms have been very successful for us. We have put a lot of engineering and marketing support behind these products. I hope that we're here 50 years from now talking about how these products were the start of some truly exciting innovations."
Listen to our interviews with Greg Howard and Skye Svenningsen on the Pool Magazine podcast.
Online Retailers Are Leveling The Playing Field in 2023
The retail industry has faced numerous challenges in recent years, and 2023 is no exception. The COVID-19 pandemic has had a significant impact on the industry, with many retailers experiencing closures, reduced foot traffic, and decreased sales. In addition to these challenges, retailers must also navigate an increasingly competitive landscape. Inflation has certainly made operating a traditional brick-and-mortar store a much more expensive proposition.
To get a better understanding of how online retailers are thriving in a changing economy we spoke with Frank Vitori, owner and co-founder of AquaBlu Mosaics, a leading eCommerce site in the pool & spa vertical.
"AquaBlu was actually established back in 2013," explained Vitori, "we started the company because we saw a giant void in the online world for distribution of swimming pool products. At that time, we actually just started out with the pool mosaics, the dolphins and turtles, the ornamental type stuff. Before we knew it, it started to catch. Over time, we started expanding categories and it quickly became known that glass tile was our core competency."
Today AquaBlu Mosaics has become a leading source for many products that pool professionals use on a daily basis. The website has been growing its inventory by rapidly adding new distributors. The company is also on a mission to win hearts and minds within the industry itself, according to Vitori.
"We're excited to say that we've experienced great growth since 2013," said Vitori, "we put a lot of blood, sweat, and tears into the company. I'm humbled when I say I feel that in the online world, AquaBlu Mosaics has positioned itself as the go-to online distributor for all things pertaining to pool tile, accessories, and outdoor living furniture. Fast forward to 2023. I'm proud to say that AquaBlu is becoming more of a household name. If you want to compare it to National Pool Tile or Noble Tile, Aquabella, or any of those firms I would say that AquaBlu is right there with these brick-and-mortar distributors.
Vitori attributes a big reason for growth to its internet and marketing strategy. Aqua Blu Mosaics ranks as one of the top websites in a search query for pool tile. The website dominates for many pool-related keywords on popular products they sell on their website.
"I want to say that glass tile is at least 40% of our sales. We really have become the go-to guys for all of the specialty products. I like to say that we have all the fun stuff. We're a small group and very boutique in nature but offer unparalleled customer service," said Vitori.
The retailer credits engagement with pool professionals at numerous levels as another factor for growth and has been eager to expand AquaBlu's builder network. "We have a wholesale program that's called our AquaPro Trade Network, where we offer extremely competitive rates to our pool builders, contractors, designers, and landscape architects," explained Vitori.
The strategy is one that retailers like him are using to great success. Ecommerce sites like AquaBlu Mosaics have been able to thrive in the face of a changing economy in a number of different ways. One key factor is their ability to reach a wider audience than traditional brick-and-mortar retailers. Online stores can sell to customers anywhere in the world, which has helped them to weather economic downturns and shifts in local consumer behavior.
Another advantage for online retailers is their ability to offer a more convenient shopping experience. Customers can shop from the comfort of their own homes, at any time of day, and have their purchases delivered directly to their doorstep. Vitori says offering this type of convenience has helped online retailers like him to attract and retain customers, even during times of economic uncertainty.
"We cater to all tastes and budgets," said Vitori, "I can't tell you how many times builders, and even homeowners, they come to us with an idea. They're not quite sure how to produce it. And most often, we can not only tell them how to produce it, but we can give them multiple ways on how to do it and at different price levels."
Online retailers like Vitori have also been able to take advantage of advancements in technology that enable them to spot trends as they occur and increase profitability. One trend Vitori spotted early last year was an increase in the sale of artificial grass which he credits to the ongoing drought in many parts of the country. "It all makes logical sense, right? I mean, a lot of homeowners are trying to mitigate their water expenses. Some people also don't like lawn maintenance," said Vitori.
"AquaBlu Mosaics represents 26 different manufacturing brands," said Vitori who anticipates adding even more exciting brands to his growing online catalog this year. Vitori says being a leading online retailer gives him a distinct advantage over brick-and-mortar stores. Consequently, he's able to scale quickly, bring on more distributors, and add more of the hot products that consumers are truly searching for.
Want to learn more about how online retailers like AquaBlu Mosaics are leveling the playing field? Listen to our entire conversation with Frank Vitori on the Pool Magazine podcast.