Everything You Need To Know About Pool Chemicals before Summer
Swimming pools are indisputably excellent sources of fun and relaxation. However, maintaining these spectacular features is not as simple as most people think. Even worse, very few pool owners understand the term 'water chemistry.' Consequently, they cannot take good care of their pools. Fortunately, there are numerous articles on the internet that talk about pool and spa water chemistry. But it can be tiresome to read all of them. In this article, we discuss everything you need to know about pool chemicals.
Today, there are many types of pool sanitizers. The most common pool sanitizer is chlorine. This chemical comes in the form of liquid, tablets, or powder. Chlorine often breaks down into hypochlorous acid, which does all the disinfection. Hypochlorous acid kills all pathogens and microorganisms to provide a safe swimming environment.
Stabilized vs. unstabilized chlorine; is there a difference?
Pool experts always advise using chlorine in its stabilized form. Stabilized chlorine is safe from UV rays. Generally, UV rays degrade the quality of chlorine; and this lowers its effectiveness. So, using unstabilized chlorine in your pool puts swimmers at risk of contracting infections. Examples of stabilized chlorine include trichlor and dichlor. In most instances, you need to add a stabilizer directly to the pool to prevent chlorine from degrading.
Liquid chlorine, also known as sodium hypochlorite, is less costly and simple to use. However, it causes unbalanced water chemistry. You would have to use a pH decreaser like muriatic acid to lower the pH. Also, hypochlorite is not a natural stabilizer; thus, you have to add a stabilizer directly to the pool.
How to boost the effectiveness of pool chlorine
Aside from using stabilizers, there are other ways you can boost the functionality of chlorine. Using preventive algaecides can help you to maximize the effectiveness of liquid chlorine. So, if you are using liquid chlorine, ensure you add a proper algaecide at least once a week. Doing this prevents chlorine from getting used up by algae. However, you need to use the right algaecide products.
Moreover, adding enzyme products at least once a week boosts the effectiveness of chlorine. Enzyme products break down dirt and grease particles. As a result, they prevent chlorine from getting used up in spas and pools. Orthophosphate removal can also prevent chlorine from getting used up and boost water quality.
Concentrate more on physical maintenance
Most people owners use pool chemicals to keep their pools in good condition. Although this is not a bad thing, pool service technicians should focus more on physical maintenance. Ensuring that all pool equipment runs smoothly is a great way to maintain crystal-clear pool water.
At times, pool sanitizers and disinfectants cannot reach certain microorganisms. In such instances, pool pumps and filters will help you keep your pool in perfect shape. So, ensure your pool pump and filters run for approximately 8 to 12 hours a day. Also, use pool vacuums and cleaners to get rid of dirt in the pool.
How to remove ugly water lines in swimming pools
The formation of waterlines along the sides of the pool can be disturbing. Remember, sunscreen, among other oily particles, make their way into the pool. These particles float on the surface and start building up on the pool walls. Consequently, your pool develops ugly water lines. Often, this leads to increased use of chlorine. Getting rid of water lines requires you to brush them off using the right pool equipment. Dirt can also build up on pool corners, steps, ladders, and light niches. So, be on the lookout for these areas.
Safety practices to observe when handling liquid chlorine
Chlorine can cause skin and eye irritation. So, pool service technicians should transport them using the right service trucks. Always use a secondary container to prevent any leakages. Also, never place chlorine in the passenger compartment; you never know what may happen. Moreover, avoid placing sodium hypochlorite near acid solutions or ammonia. Chlorine reacts with acid compounds to produce harmful gases that could be detrimental to your respiratory health.
Usually, each state outlines various guidelines regarding chlorine transportation. So, every driver should follow these guidelines. Some of them include:
Ensure you have an SDS for all chemicals.
All chemicals should be in separate containers during transportation. Liquid chemicals, for example, should be stored separately from slid chemicals. Chemicals like muriatic acid should not be close to salt.
Avoid transporting hydrocarbons like diesel and gasoline. In the case of a road accident, they could end up causing a destructive fire.
Wipe off any chemical spills immediately. Remember, spilt chemicals can interfere with the components of other chemicals. Additionally, avoid pouring chemicals into public drains or sewers.
Avoid leaving chemicals for extended periods in the transportation truck.
Pool chemicals
Liquid chlorine is a great pool sanitizer. It is affordable and can destroy almost all microorganisms in the pool. However, liquid chlorine is not stabilized. Thus, UV rays can degrade liquid chlorine. You can prevent this by adding appropriate stabilizers to the pool water. Additionally, you can boost the effectiveness of liquid chlorine by using preventive algaecides and removing orthophosphate from pool water. Ultimately, it would be best if you handled liquid pool chemicals with care.
The Indoor Ocean Where The US Navy Tests Its Ships
Take an insiders tour of the Indoor Ocean where the US Navy tests its ships.
One of the world's largest wave pools sits at the United States Naval Surface Warfare Center. They use the facility to create waves of specific sizes, frequencies, and amplitudes. Since 1962, the US Navy has tested all of its ships, platforms, and moored systems in realistic sea conditions at the Indoor Ocean in NSWC Carderock.
Approximately 240′ x 360′, the enormous basin is 20 feet deep and holds 12 million gallons of water. In addition, it also once held the record for having the world's largest dome.
Indoor Ocean Used To Predict Ship Performance
The Navy uses the facility to predict how their full-scale ships will perform in the open ocean by testing their stability and control in a vessel that simulates real-world wave conditions. The maneuvering and seakeeping basin, also nicknamed (MASK) is where the US Navy tests its fleet. Built in 1962, and renovated in 2013.
The Indoor Ocean received an upgrade from 21 slow and inefficient pneumatic domes to 216 paddles. Consequently, today, operators have better and more independent control. With 99 percent precision, the results produced at the renovated facility provide far more realistic conditions than its predecessor.
Engineers at the facility evaluate operability, ship motions, and efficiency. MASK researchers can then use this information to fine-tune a new vessel's design to maximize its chances of achieving the desired level of performance. Testing also aids in establishing operational guidelines for the crew and ensuring the correct configuration of the ship.
"There are many different kinds of waves," Calvin Krishen, NSWC engineer, said in a YouTube video uploaded by the Department of Defense. "Waves are different in different parts of the world and they are different depending if you are close to shore, or away from shore or whether you're in a storm or not. We actually have the capability of programming all those different types of waves to test."
Conducting Testing & Analysis To Create Better Ships
Engineers perform rigorous tests and manufacture vessels to a smaller scale in order to see how they will perform out on the open ocean. Based on the analysis conducted at NSWC Carderock, ship designers can make necessary adjustments to improve performance in real-world conditions.
How This Enormous Wave Pool Works
The machine that operates the wave pool consists of a paddle system that lines two walls of the pool. The system consists of 216 individual wavemakers capable of producing waves of varying sizes from -45 degrees to 135 degrees.
The paddle system is programmed for choreographed movement. It creates reproducible, perfect-sized, perfect-frequency waves. Force transducers create air bellows that go across the pool at specific angular motions. The motion is akin to fingers moving across the keys of a piano.
There are wave pools located all over the world but what makes the Indoor Ocean unique is its ability to create reproducible waves of specific amplitude and frequency. Wave conditions vary in different parts of the world. MASK, however, is capable of mimicking the same conditions that exist during various times of the year in any location across the globe.
Why The Need To Upgrade?
The old pneumatic-powered wave system used antiquated technology. The Navy requires a facility capable of performing the rigorous testing demanded by engineers. In the past, the testing team sometimes had to relocate their models to the actual ocean and study the weather in order to recreate the perfect wave conditions.
Today, designers create models as large as 30 feet in length. Operators submerge them in MASK's turbulent waters to simulate their future working conditions.
Precise computer controls may be the most useful part of the new high-tech system. Testers can design a certain marine environment and tell the computer how to achieve it. Operators program a 3D model of the exact waveform they want to simulate.
"We can nail, at scale, the conditions all over the world," said Jon Etxegoien, Head of Naval Architecture & Engineering, "So it's not just that we can do some kind of rogue sea states, we can actually do the kind of seas they can expect in the North Atlantic, the South Pacific, littoral areas, that sort of thing. So that's what gives us a real leg up. It's not just some generic sea condition, but the specifics of where they're going to be operating."
Take a Tour Inside Where The US Navy Tests Its Ships
Does it shock and awe us that the United States military owns the best wave pool in the world? Not really. However, it does fill us with enormous pride to know that dedicated professionals perform the highest level of testing and analysis for the vessels that comprise our naval fleet.
Featured Photo Credit: Department of Defense
China Claims Title For World's Highest Outdoor Swimming Pool
New business tower in China has a pool with breathtaking views from the 71st floor.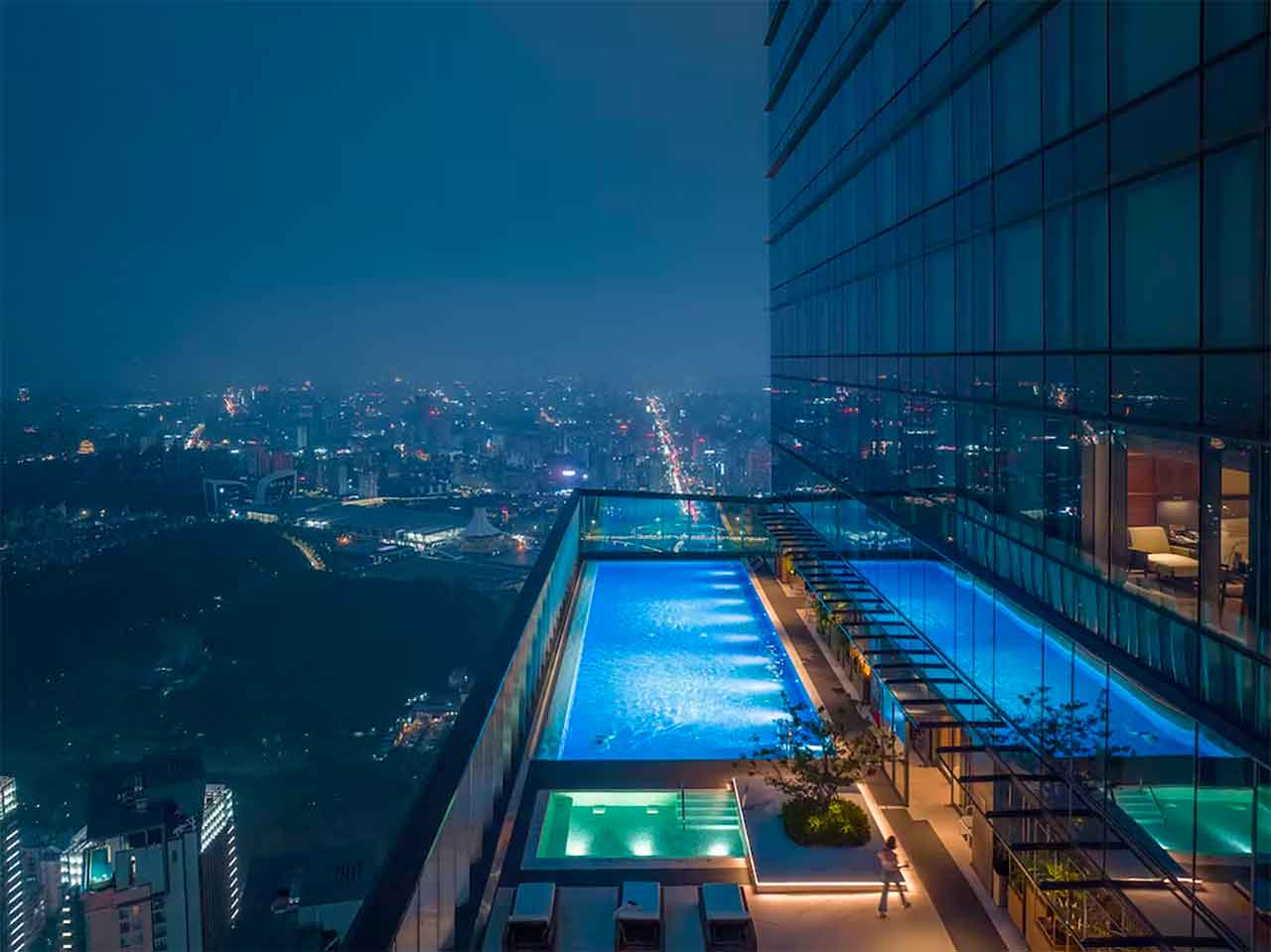 The title of the World's Highest Outdoor Swimming Pool now goes to China. Construction of a new 1,322-foot-tall tower by Chicago-based architects Goettsch Partners is now complete in Nanning, China. The tower's crowning feature is an outdoor swimming pool that, according to the architects, is the highest in the world.
Title for Highest Outdoor Pool Goes To China
The hotel's pool on the 71st-floor terrace is 1,060 feet above the ground, making it the highest in the world. Previously, the 57th-floor infinity pool at Moshe Safdie's Marina Bay Sands held the title.
The Guangxi China Resources Tower, at over 2.93 million square feet, is the 18th tallest building in China and the 37th tallest building in the world. It is a mixed-use design that includes a hotel, office spaces, and retail.
More than 60% of the 86-story structure's lettable space, or 272,000 square meters, will be occupied by offices. Approximately 6,000 square meters of retail space and a Shangri-La Nanning hotel with 336 rooms are also planned.
"The building is a symbol of rising prosperity for the city," notes James Zheng, AIA, LEED AP, CEO and president of GP. "It further sets a world-class standard for quality that is meant to endure."
The tower, developed by Shenzhen-based China Resources Land, will serve as the focal point of a brand-new 90-hectare urban quarter in Nanning. The podium and basement of the building are linked to the structures around it.
Beginning in 2014, the building process will be completed by the end of 2020 (November). The company claims that the building is completely occupied and functional now that the interior fit-out is complete.
One of a Kind Panoramic Views
The hotel emerges atop the office volume, drastically altering the building's profile. The lower volume is capped by a monumental terrace at Level 71, which serves as a one-of-a-kind outdoor sky space where guests can swim in the hotel's pool. From sunrise to sunset, the sweeping 180-degree panorama offers unparalleled views of the surrounding lakes, parks, and mountains.
The tower is an essential part of a larger mixed-use development, and its design to LEED Gold standards places an emphasis on sustainable sites and energy optimization. The podium and basement levels of the various buildings work together to form a seamless network that is optimized for the greater master-planned development. Sunshades on the building's exterior, combined with a high-performance façade enclosure system, allow for abundant natural light and breathtaking vistas to penetrate every level while significantly cutting down on energy consumption.
Mechanical systems have been developed to maximize the efficiency of operation, reduce energy and water use while increasing comfort levels inside the building. The highest quality materials are used throughout the structure to emphasize longevity and durability and lessen the building's future impact on the local environment.
"The tower is a sustainable response to its urban context," sayid Travis Soberg, AIA, LEED AP, in a press release. "The building integrates conservation methods throughout the design that reinforce our commitment to environmental responsibility."
Photo Credits: Goettsch Partners
Las Vegas Losing Classic Fire & Water Feature – Mirage Volcano Set to Close
Hard Rock confirms iconic Las Vegas fire feature, Mirage Volcano will close.
The Mirage's fiery volcano, which has been erupting regularly on the Las Vegas Strip for over 30 years, will soon cease activity forever.
Since MGM Resorts International sold the property to Hard Rock International last year, the resort has been undergoing a rebranding process, and the resort's iconic volcano will not play a role in the new resort plan.
The time of the final eruption for the Mirage Volcano is unknown, and neither Hard Rock nor MGM officials would confirm exactly when the volcano would be dismantled. They plan to build another one of Hard Rocks guitar-shaped hotels in the space.
About The Mirage Volcano
When the resort opened on November 22, 1989, the volcano quickly became a fan favorite. A modeled three-acre paradise resembling the South Seas is routinely jolted awake by the ominous rumbles of the Mirage Volcano throughout the night. Rapid movement of water along with creative lighting resembles lava.
Exciting flames shoot over 60 feet into the air. If you've ever watched the show from the street, you can literally feel the searing heat. With music composed by Grateful Dead drummer Mickey Hart and tabla virtuoso Zakir Hussain, more than 150 Fireshooters, developed by WET Design (who also created the Fountains of Bellagio), propel fireballs in a dramatic choreographed display.
The volcano was one of the first free attractions paving the way for others like the pirate battle at Treasure Island, the light shows and concerts at the Fremont Street Experience, and the Bellagio fountains.
From 8 p.m. until 11 p.m., the volcano at the Mirage continues its hourly eruptions. We took the opportunity to see this fiery spectacle, perhaps for the last time, while exhibiting at the PSP Deck Expo recently. The street was packed with onlookers watching the show on the street.
Elaine Wynn, who was married to casino magnate Steve Wynn at the time, first came up with the idea for the volcano as a great way to differentiate the Mirage from the competition.
In recent years, however, Las Vegas has been shifting away from a transparently thematic approach with its newest resorts, including the Cosmopolitan (2010), Circa (2020), and Resorts World (2021), and its reliance on free attractions and loss leaders, such as buffets and poker rooms, to bring in the bustling crowds.
Las Vegas Residents Eager To Keep Attraction
There has been a running sentiment amongst casino insiders that free attractions such as the Mirage Volcano have turned into a drain on profits. In light of the news that the Volcano is slated to be removed, many Las Vegas residents have expressed they do not want to see the attraction go.
"When I heard the news, I remember just wondering why this was going to happen," Alden Gillespy, a longtime resident of Las Vegas and critic of removing the volcano, told the Las Vegas Sun. "The fact that they were going to tear down the volcano, that hit me personally."
Every time it goes off, the Volcano in Las Vegas draws in hundreds of people, both young and old, to the Strip. The idea of tearing it down has been met with pushback. A group of passionate residents in Las Vegas has banded together to compel Hard Rock International and the city government to stop the new owner from demolishing what they say is a historic landmark. A petition to protect the volcano has over 9,000 signatures of support.
Among those who think the volcano should be preserved is UNLV history professor Michael Green.
"We lost a lot of hotels on the Strip because of the understandable need to build better, more modern hotels," Green told the Sun. "The volcano is a reminder of how it helped trigger the modern Las Vegas boom."